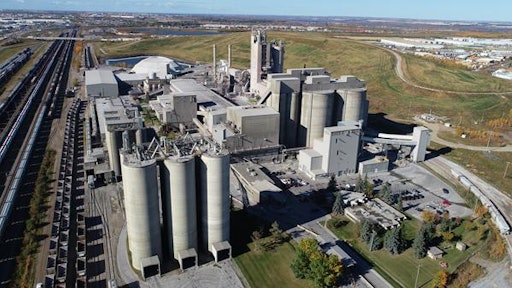 Lehigh Cement

Lehigh Hanson has begun producing its new EcoCem PLUS at its Edmonton cement plant in Alberta, Canada. the new product is blended Portland Limestone Cement (PLC) available in Alberta, Saskatchewan and Manitoba. Lehigh, a subsidiary of HeidelbergCement Group, joins a growing list of cement producers and affiliates launching cement mixes with a reduced carbon footprint. 
EcoCem PLUS features include:  
Produced by inter-grinding clinker, fly ash, limestone and gypsum.
Outperforms traditional high-sulfate resistance (HS) cement in resisting sulphate attack, a concern found throughout the prairies.
Designated as HSLb (High Sulphate Limestone blended) by the Canada Standards Association (CSA), suitable for most applications.
All-in-one product reduces the need for additional silos and coordination of multiple deliveries at concrete plants and project sites.
Environmental Product Declaration (EPD) for EcoCem PLUS clearly states the immediate reduction in Global Warming Potential (GWP) versus other types of cement.
"The motivation behind the EcoCem brand of products is to reduce the embodied carbon of cement and concrete," says Shawn McMillan, vice president, cement, Lehigh Hanson's Canada Region. "The introduction of EcoCem PLUS to the Prairie market builds on our commitment to providing environmentally responsible types of cement that deliver excellent performance while dramatically reducing CO2 emissions."
EcoCem PLUS can lower the carbon footprint by more than 22% (-184kg CO2-eq) as compared to Lehigh's General Use (GU) cement and 32% (-308.5kg CO2-eq) compared to the current industry average GU cement when comparing EPDs.
HeidelbergCement, Lehigh Cement's global parent company, has committed to reducing 30% of its carbon emissions by 2025 and providing carbon-neutral concrete by 2050. EcoCem PLUS is the latest of several new products recently developed to help achieve those goals.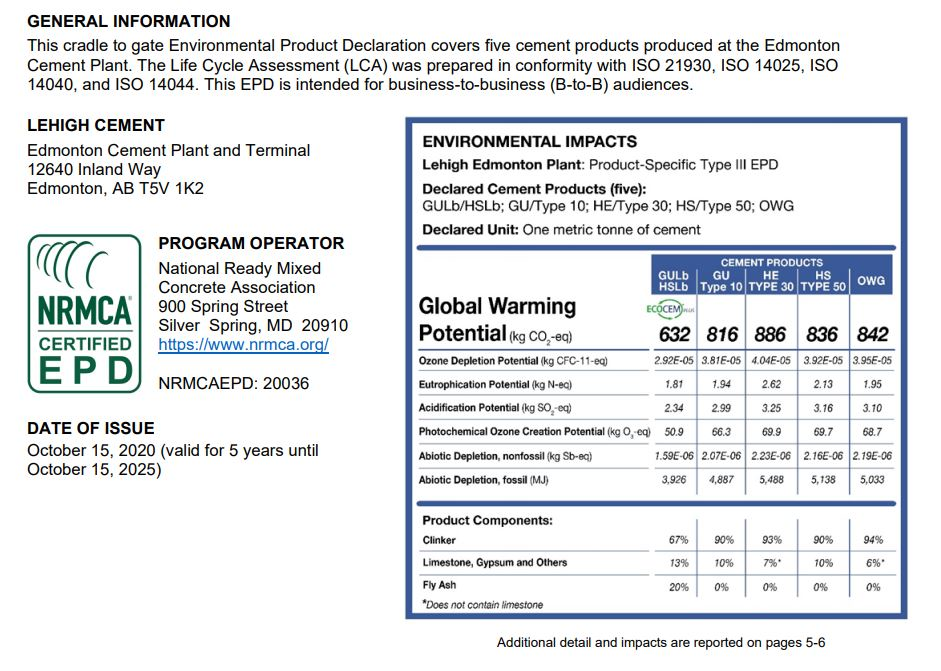 Environmental Product Declaration (EPD) for cement produced at Lehigh's cement plant in Edmonton.Lehigh

EPDs
Lehigh Cement has been developing and publishing Environmental Product Declarations (EPDs) for its cement plants. EPDs create a standardized way of measuring the carbon footprint of materials used in the manufacturing process of a product, such as concrete. 
"Much like food nutrition labels highlight calorific values, our plant and product-specific EPDs communicate the environmental impact through Global Warming Potential (GWP) for cement in a simple and easy-to-understand manner," says Joerg Nixdorf, president of Lehigh Hanson's Canada Region. "We were the first North American cement producer to create and publish a plant and product-specific EPD for our cement under the new and more stringent cement Product Category Rules (PCR). This work is providing concrete with the ability to reduce its embodied carbon in the built environment."
In addition to the launch of EcoCem PLUS, Lehigh Cement also published product and plant-specific EPDs for all of its cement products produced at the Edmonton, Alberta plant. Lehigh Cement worked with Climate Earth to develop the EPDs and they can be found at the National Ready Mixed Concrete Association (NRMCA) website at www.nrmca.org.
Request More Information
Fill out the form below to request more information about
Lehigh Cement Among Latest to Launch Reduced Carbon Footprint Concrete