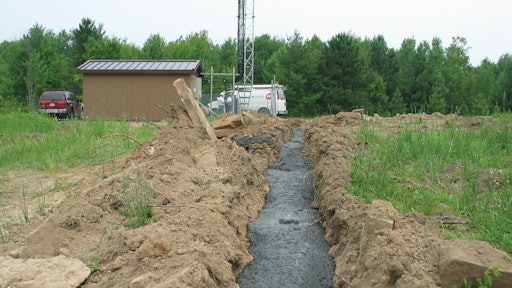 Imagine a world where you could drive cross country in an electric car, never stopping to recharge your battery but instead taking advantage of induction charging through electrically conductive concrete roadways. This glimpse of the future isn't as far off as you might think. True, electric car technologies have a long way to go before this type of future can be realized, but the concrete end of it has been making advancements over the last several years.
At a recent meeting of the Wisconsin Chapter of the American Concrete Institute (ACI), Art Covi, P.E., Principal Engineer, Coal-Combustion Products Team Leader for WE Energies in Milwaukee, Wis., gave a presentation entitled, "Electrically Conductive Concrete Using High Carbon Fly Ash." Covi spoke about the research and applications he has been involved with at the University of Wisconsin-Milwaukee, where they are testing electrically conductive concrete made with high carbon fly ash and carbon fibers in the concrete mix.
Two of the applications the UW-M team is currently testing with conductive concrete include a bridge overlay that melts snow and ice as a means to increase winter driving safety and a telecommunications grounding trench at an electrical substation. The substation undergoing testing had previously experienced about four outages each year due to lightning strikes, and the shallow bedrock conditions made conventional grounding methods ineffective. Since installing a grounding trench made from electrically conductive concrete, the substation has not suffered an outage in 3 years. After citing a statistic that showed lightning causes $4 billion worth of damage done to buildings each year, largely due to inadequately grounded facilities and equipment, Covi discussed other applications where building with electrically conductive concrete could bring companies and utilities savings and protection, including electrical transmission sites, computer server buildings and ordnance storage.
You can read more about electrically conductive concrete in the article "An Electric Freeway to the Future" from the May 2011 issue of ACI's monthly magazine Concrete International, and in this case study about a Nebraska bridge from the Portland Cement Association. We Energies offers a site detailing its coal combustion products use, and the American Coal Ash Association website is a great resource for learning more about the use of coal combustion products in general.