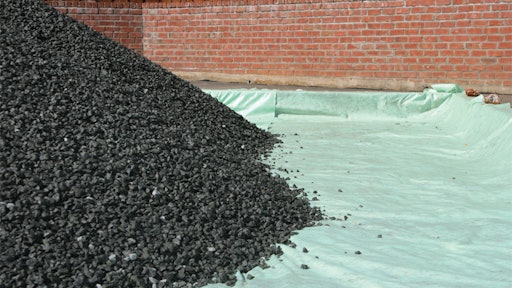 At a press conference during the CONEXPO-CON/AGG show in Las Vegas, Propex, maker of Fibermesh synthetic fibers for reinforced concrete, announced the introduction of its PERC pervious concrete infiltration fabric. PERC is designed to assist in the effectiveness of pervious concrete applications with enhanced water flow properties and permeability but with low pore size to trap soil. The fabric is placed as a separation layer between the softer, less compacted soil base and the stone filter layer.
During the product introduction press conference, Dale Fisher, executive director of the National Pervious Concrete Pavement Association (NPCPA), described the benefits of pervious concrete, including reduced stormwater runoff and stormwater management. Fisher believes PERC will enhance performance for pervious concrete systems in paving installations.
PERC is made from 100% recycled PET from soda bottles. The 15-foot-wide rolls will be available through 2,000 ready-mix producers in mid-April.
You can learn more about PERC Pervious Concrete Infiltration Fabric at www.fibermesh.com.