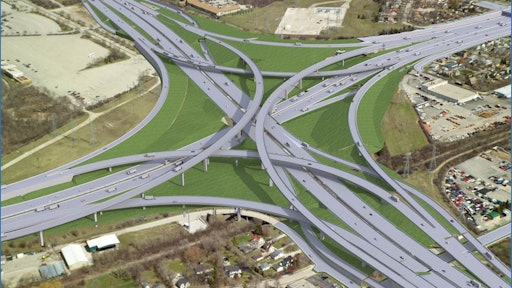 I attended a recent American Concrete Institute (ACI) Wisconsin Chapter meeting where Bob Gutierrez, SE Freeways Design Chief with the Wisconsin DOT, spoke about the Zoo Interchange project outside of Milwaukee, Wis. The 5-year, $1.7 billion project will utilize 1.5 million cubic yards of concrete throughout pavements, 66 bridges and 11 miles of retaining walls.
The Zoo Interchange is Wisconsin's oldest, busiest and largest interchange, supporting 350,000 vehicles a day. After 50 years of service, it was experiencing congestion, age and three accidents a day. The project was designed to improve safety and efficiency throughout the area. At the same time, utilities and railroad lines along the corridor will be upgraded.
One of the unique aspects of the project is the Super Shaft system that will support the 4-level interchange core. These foundation points will be 8 feet in diameter and reach 60 feet down into the ground.
While this project will make roadways safer and more efficient for drivers, they are not the only travelers who will benefit from the work. Pedestrians and bicyclists will enjoy safer trails, both those adjacent to the roadway and on the bike trail that runs throughout the project. And the lepidopterology (the study of butterflies) community should take note that a monarch butterfly migration stop falls within the boundaries of the Zoo Interchange. The Wisconsin DOT, working with the Friends of the Monarch Trail, is taking steps to preserve and enhance this habitat and ensure the butterfly migration path is protected.
You can learn more about the Zoo Interchange at the Wisconsin DOT website, or by liking the Zoo Interchange on Facebook.