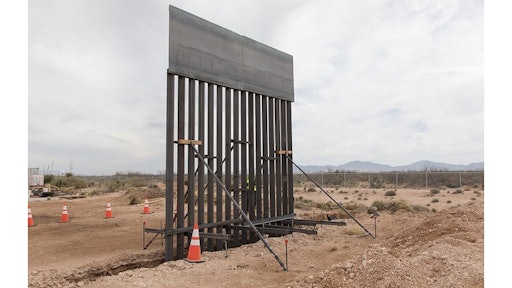 Mani Albrecht, U.S. Customs and Border Protection
The Wall Street Journal reports that President Trump is likely to sign the border-security deal lawmakers reached this week that would keep the government open past Friday, according to people familiar with his plans, marking a potential concession by the president on his demands for border-wall funding.
In a cabinet meeting a day earlier, Trump said the bill was "not doing the trick" and that he planned to try to amend it. "It's always nice to negotiate a little bit, right?" he said.
Senior Republican lawmakers said it wasn't realistic to reopen negotiations at this point, and Senate Majority Leader Mitch McConnell (R-KY) urged the president to sign the bill, calling it a "pretty good deal."
Trump's reservations about the deal stem from its allocation of $1.38 billion for 55 miles of physical barriers – including bollard fencing and levee walls – along the Rio Grande Valley of the U.S.-Mexico border. It's a far lower funding level than the $5.7 billion Trump had sought for the wall, and less than the $1.6 billion Congress agreed upon in a bipartisan bill in December. McConnell and Trump rejected that bill just before plunging the nation into its longest-ever partial government shutdown.
This week's bill allocates a tiny fraction of the $25 billion Senate Minority Leader Chuck Schumer (D-NY) offered the president to use for a border wall in exchange for a path to citizenship for young immigrants.
Politico reports the White House is firming up plans to redirect unspent federal dollars in an attempt to avoid the legal challenges that would follow invoking a national emergency to fund Trump's border wall. Done by executive order, this plan would allow the White House to shift money from different budgetary accounts without congressional approval.
There is some administration consensus to shift money from two Army Corps of Engineers' flood control projects in Northern California, as well as from disaster relief funds intended for California and Puerto Rico. The plan will also tap unspent Department of Defense funds for military construction, like family housing or infrastructure for military bases.
Moving funds by executive order is also virtually certain to draw immediate court challenges, with opponents, including powerful members of Congress, arguing the president is encroaching on the legislative branch's constitutional power to appropriate funds.
The Hill reports that the top Republican on the House Armed Services Committee, Mac Thornberry (R-TX) is already arguing that tapping military construction money would hurt the armed forces' potential readiness.
"It will create a firestorm, once you start taking money that congressmen think is in their districts," said Jim Dyer, a former staff director for the House Appropriations Committee.
Diverting disaster money intended for heavily Democratic California and Puerto Rico – instead of staunchly Republican Texas, which is still rebuilding after Hurricane Harvey – Trump opens himself up to criticism that he's favoring red states over blue ones.