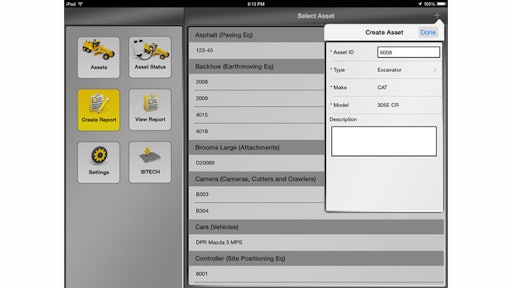 Mobile app: Trimble Inspector & Inspector Pro
Developer: Trimble Navigation Limited
Cost: Free
Available on: Apple and Android devices
Trimble Inspector mobile app replaces paper and pencil for equipment, machine and asset inspections. The app makes getting started simple with existing libraries of equipment, machine and vehicle types, makes and models as well as inspection checklists. The app can be used for daily, weekly, and monthly visual inspections. Inspection reports and photos can then be emailed to the office.
Equipment managers can use the free Trimble Inspector to inspect assets in real-time using a smartphone or tablet. Trimble Inspector Pro is the premium subscription version that allows the user to wirelessly aggregate and share asset condition across multiple sites using Trimble Asset Manager software.
The Pro version features all the functionality of the free version with the addition of customized inspection reports and comprehensive maintenance reports for service crews. Pro version users can also record equipment service issues and notify site management staff of equipment status within seconds of completed inspections.
App features:
Assists with scheduling equipment maintenance
Email reports include current visual health status, hours, odometer reading and general condition
Retain reports and photos for legal documentation of health and safety standards compliance and for audit purposes
Can be used for trade-in or auction house inspections of used equipment