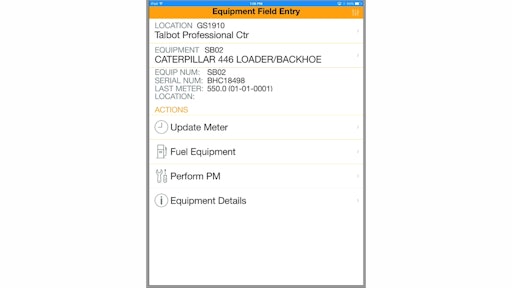 Mobile app: Spectrum Equipment Field Entry
Developer: Dexter + Chaney
Cost: Free
Available on: Apple and Android devices
Spectrum Equipment Field Entry is designed to gather and analyze equipment data while in the field. Users can select a job and view all equipment assigned to it as well as view the location of equipment in the field. Use the app to record the meter readings and fuel transactions for your heavy construction equipment.
The mobile app collects data including usage hours and odometer readings and can track fuel transactions or amounts of fuel dispensed. The app can also track scheduled maintenance tasks, inform users when maintenance is due and record when maintenance tasks are completed.
"With Equipment Field Entry, data can be easily gathered and equipment managers can get accurate, up-to-date utilization rates for equipment, stay on top of maintenance, and manage equipment more effectively and efficiently overall," says John Chaney, CEO and co-founder of Dexter + Chaney.
"One of the biggest benefits of the Equipment Field Entry app is the ability to track fuel usage and gather data to get better control of fuel costs," Chaney says.
In addition to field entry abilities, the app connects directly to Dexter + Chaney's Spectrum Construction Software suite, which allows for the data to flow seamlessly into the system.
App features:
Work offline and sync with Spectrum when connected to the Internet
Bluetooth capability enables app to automatically connect and communicate with fuel tank flow meters
Automate preventive maintenance through push alerts
Assign and charge equipment to the right jobs
Automatically generate accurate invoices