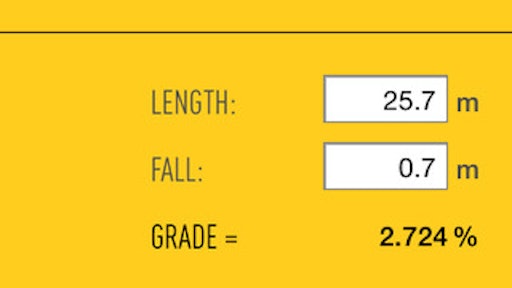 Mobile app: CivilWorks
Developer: On-Site Civil Solutions Pty. Ltd.
Cost: Free
Available on: Apple and Android
The CivilWorks mobile app is designed to perform all on-site mathematical calculations and fundamental formulas for civil construction data. The app features 18 functions for heavy civil construction basics including calculating area, volume, weight and grade level conversions as well as reduced levels and important staff/rod readings. The app also features calculation control, cross-check and simple data recording.
The MY JOBS feature lets the user create multiple job folders for entering daily job notes including needed actions, tracking activities or to-do lists. The folders can also store and locate contact details and calculation data specific to each job.
Video: Introducing CivilWorks Mobile App for Civil Construction Calculations
App features:
Calculate reduced levels, jump ups, new benchmarks and daily level checks
Covert and adjust grades
Email calculation data straight to contacts for approval, ordering and confirmation
Save and manage data on a job by job basis
Retains all data on screen to reduce erros
Reduced Level Calculator for making precise site cuts, excavating pits and building structures accurately
Grade Conversion for setting the correct pipeline percentage grades and helping new civil works employees use pipe lasers correctly
Rise/Fall Calculator to work out the rise or fall height from a known percent grade and distance
Grade Calculator for checking percentage grade values on plans are correct, matching cross falls, setting irrigation channel grades and more
Daily Level Check for avoiding costly reworks and averting civil works site frustrations
Grade Adjustment Calculator for building pipelines correctly
Jump Up Calculator for building well-functioning drainage systems
New Benchmark for ensuring sound and accurate work procedures and improving workflow
Determine A Reduced Level to find the reduced level at a new point from a known benchmark
Square/Cube Calculator for determining accurate volumes for boxing out and building roads, as well as trench bedding and saving resources.
Set Out A Point and Asset Recording tools give contractors the ability to replace lost set out pegs