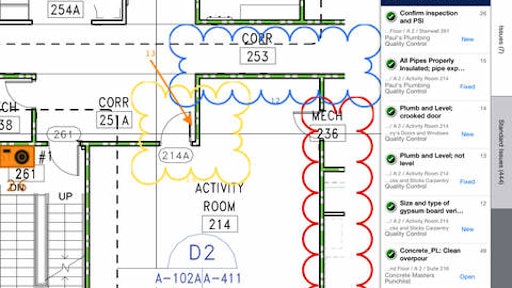 Mobile app: Latista for Construction Management
Developer: Latista Technologies, Inc.
Cost: Free
Available on: Apple devices
Latista for Construction Management mobile app brings a construction contractor's project documents, including BIM, out of the office and into the field. The app, designed for an iPad or iPhone, is meant to be a comprehensive and easy-to-use quality, commissioning and field management application.
Video: Reduce Costs, Increase Efficiency and Work Smarter with Latista Field
With project drawings available right on their mobile device, Latista app users can create issues directly on project drawings, complete inspection forms just as they will appear on paper and manage complex, customizable project workflows. The iPad app also has the ability to access and view BIM models.
Video: Introducing Latista for iPhone
Contractors can use the app to automate the QA/QC process with Latista's standard forms, or users can upload their own. The mobile app lets contractors manage progress by area or equipment as well as track inspection and issue status. App users can also schedule notifications when a resolution is overdue.
On the safety side, the Latista mobile app lets contractors digitally complete inspections, mark up drawings to indicate issues, take and attach photos to issues, and visually track progress on a personal dashboard.
The punch list feature gives contractors the option to identify, record and track construction deficiencies while in the field and then automatically generate reports for subcontractors and owners. The punch list form helps eliminate confusion by ensuring all participants are using the same names for types of issues, areas on the jobsite and resolution requirements. The punch list feature also lets users:
Filter issues by responsible party, type or area
Attach marked up drawings, photos, sketches or other reference material directly to issues
Assign issues to specific responsible parties
Dispatch work orders
Track issue statistics that matter most such as time to close, responsible party and remaining open issues
Monitor issue status for areas or equipment
Latista Mobile Software Reduces Back Office Reporting Time on Hospital Construction

The commissioning feature of the app helps automate scripts, track systems and equipment status, and document the full inspection and building commissioning process. Owners can then sign approval directly on a tablet. This feature also lets users:
Set up electronic forms and configurable workflows
Interactively record test on digital forms
Track status using a dashboard updated in real time
Integrate with schedule management solutions
Monitor scheduled dates and visually track status for each step
Set up and manage equipment and dependencies
Set up notification of key events in process
Finally, the app features a library of standard reports for key indicators and trends making it easy to track project performance and identify potential problems. Reports include:
Areas with the most open issues
Average age of open issues by type
Average time to close issued by party
Completed trend by inspection type
Issue distribution by responsible party
Overdue issues trend by area
Responsible party ranking
Top 10 standard issues
Total number of issue trends by issue type
Weekly issue activity
Weekly inspection activity
Latista Software Helps Clark Construction Finish US Navy Condo Project Early with No Defects
App features:
Create fully populated issues directly on project drawings using drag and drop
Add photos directly to a plan using camera mark-up tool
Import, access and mark-up drawings, plans, forms, contracts and BIM
Scan equipment barcodes to find items instantly
Manage workflows, track progress and complete commissioning steps
Sync data to Latista cloud solution for project-wide reporting and metrics
Opens PDFs, images, Microsoft Word, PowerPoint and Excel documents directly in app
Monitor project performance with a comprehensive set of out-of-the-box reports and dashboards
Customizable reports that compare inspection data across all projects; create, track and act on cross-project benchmarks
Control who can access which documents
Track revisions and publish to the entire team
Works offline to pull documents on demand
Mark up photos and PDFs
Manage issues with layered mark-ups
Compare items side-by-side and identify duplicates