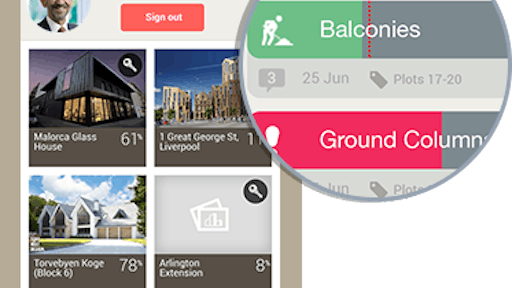 Mobile app: GenieBelt
Developer: GenieBelt
Cost: Free with upgrade potential
Available on: Apple and Android devices
With the GenieBelt platform, construction contractors can maintain an overview of their projects and keep up to date on what's going on with each project. According to the developer, "GenieBelt fits a market gap between free file-sharing sites, in-house generic document management systems and existing construction-oriented collaboration platforms."
GenieBelt is based on the idea of a shared, real-time, interactive project Gantt chart (schedule) accessed from a desktop or mobile phone to get construction projects completed faster and make collaboration easier.
[VIDEO] How GenieBelt Mobile App Makes Project Management Easier

The GenieBelt dashboard provides an overview of all projects, notifications of important actions needed and a visualization of project goals. Track all tasks including task descriptions, start and end dates, and more
Aside from the broad overview, GenieBelt features built-in plans and document management, which is used to share, track and manage documents internally within all your projects. Plus, the app lets users share essential issues with clients and third parties outside GenieBelt.
GenieBelt also features a built-in, real-time audit trail that automatically keeps track and records activity on all tasks, plan sheets and documents. Everyone can see the status of a project as it happens including who's doing what, when and where. The audit trail appears in chronological order.
App features:
Instant progress updates
Daily reports/photos
Automatically create weekly progress report
Manage project schedules in the cloud
View current set of plans when in the field
Issue plans internally and externally
Manage plan revisions automatically
Fully searchable automatic project directory
Work offline with mobile app
Notification of important changes to projects
Sign off or reject completed tasks
Store pictures