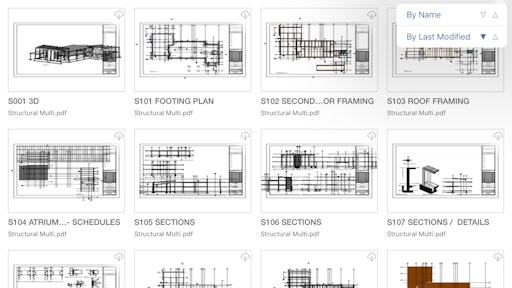 Mobile app: Autodesk BIM 360 Docs
Developer: Autodesk Inc.
Cost: Free for a single project
Available on: Apple devices
Construction workers in the field have document management, review and control capabilities with tools to view, share and collaborate on construction project plans, models and documents throughout the life of a project with the Autodesk BIM 360 Docs mobile app.
The cloud-based app keeps the entire construction project team working from the correct, most up-to-date versions of documents, plans and models.
The app extends the functionality of the BIM 360 Docs Web service to mobile workers.  The BIM 360 Docs Web UI provides additional capabilities for publishing, managing users and permissions, and project organization. The free subscription to BIM 360 Docs includes support for all design file types, unlimited users and unlimited storage, and design review tools like collaborative markup and issue management. A paid tier version ($249 per project per month) provides even more features for users. 
The latest updates increase usability for reviewing and commenting on plans and models through version comparison, markups and issue creation, assignment and tracking functionality. The Autodesk BIM 360 Docs app lets mobile users identify areas in designs that need action, document work in progress and work completed, and notify other project team members or companies of items that need attention. All of which can be done whether the user is online or offline.
App features:
Single app for all 2D plans, 3D models and project files
Sync documents for offline access
View 2D plans and 3D models from a single viewer
Control file access by user, role or company; five permission levels
Mark sheets with pins to identify issues
Assign issues to trades or project team members
Add comments, reassign and change issue status when offline
Notify users of what drawings and models have markups or issues added
Notify project users of assigned issues and link directly to the sheet from the notification message