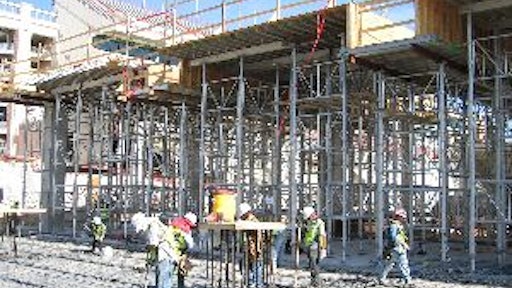 The Challenge:
Add a grandstand to Texas Longhorns' football stadium to increase seating capacity.
The Players:
CMC Construction Services
RMD Kwikform
The Process:
The contractors had a six month time frame to complete the lower half of the stand before the start of the 2009 football season. One end of the existing stadium had to be infilled to provide the space for additional seating. Traditionally, steel shoring and timber formwork are used for this type of project. On this project, the Longhorns' stadium used RMD Kwikform's Alshor Plus lightweight aluminium shoring system, which could be erected and dismantled quickly and efficiently.
Construction of the structure included forming a 10-level stand with a precast concrete slab used to form the seating area. The stand is supported by concrete columns and 6-foot-thick in situ concrete beams. The Alshor Plus system was used to shore up the aluminium primary and secondary beams supporting the plywood face for the in situ beams.
A range of Alshor Plus legs sizes used in combination with the adjustable jack and in-built quick release mechanism helped accommodate the tiered nature of the structure.
"The beauty of this project was its modular style build and symmetry as a number of Alshor Plus towers could be assembled at the same time and then just moved into place," says RMD Kwikform's Business Development Director Roger Smith.