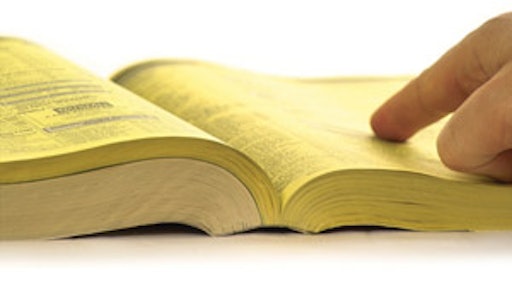 Dave Pribulick
One of the most common problems the pavement maintenance industry faces is a poor reputation caused by the fly-by-night operators who afflict every region of the country. They do a lousy job, misrepresent their product, don't stand behind their work, and even cause damage to personal property while moving throughout a region - up and down the Eastern Seaboard, for example - making fast money, taking advantage of unsuspecting homeowners, and damaging the reputation of the industry along the way.
Their usual approach is to show up on the homeowner's doorstep and say some combination of the following: "I just did a driveway around the corner," "I have just enough sealer left to do yours," "If I don't use the sealer now it will go bad," or "I will make you a great cash-only deal."
But there are steps contractors can take, in addition to educating their customers, to help solidify the reputation of the pavement maintenance business and make it more difficult for the fly-by-night operator to obtain any work at all.
All of the following will make an impact in your market because they are things the fly-by-nights won't do:
1. Operate like a business. This seems so obvious that many contractors don't even think about it, but reputable contractors need to operate like a real business. Give your business a name. Have an office location, a phone number, and a person (or at least an answering machine) to receive calls. Return phone calls promptly. Set up appointments to bid jobs. Schedule work so the homeowner knows when to expect you.
2. Look like a business. Put your company name, address, and phone number on all vehicles. Outfit your crew so they look like a team, using t-shirts and hats with your name printed on them. When your crew shows up on a job, decked out in the same color shirts, wearing the same hats, and steps out of vehicles with your company name painted brazenly on the side, there's no question they represent an established company.
3. Develop a slogan. Paint it on your vehicles. Tout the number of years you've been in business.
4. Develop a web site. Once up and running it's an easy place to direct prospects to and can help generate sales leads.
5. Advertise. Most reputable contractors rely to some extent on the Yellow Pages, and that's fine. Also run ads in the local papers, and use cable television and radio advertising if your budget allows (it's not as expensive as you think).
6. Print business cards. Include all your pertinent business information. Print a lot of them, more than you think you'll need, and then leave them behind every chance you get.
7. Use a printed bid form. At the least the form should include company name, phone number, address, e-mail or Web site address, and your state business license number and insurance number.
8. Know your product. In your bid tell the customer what product you will be using, and leave behind a brochure explaining product benefits (your sealer supplier will be happy to provide them to you). Have your supplier's phone number handy.
9. Provide references. Include name, phone number, and address. Encourage prospects to drive by these jobs or call them (get past customers' permission to use them as references).
10. Join local organizations. This not only increases your contacts and your chances to get work, it gets your name out into the community, especially the business community, solidifying your reputation.
A sealcoating job done properly won't wash away with the first rain or be splattered all over the house or sidewalks. A job done properly will have an even matte finish and a jet-black color, though color can vary depending on the product. It won't show substantial wear or rub-off prematurely during the manufacturer's recommended life expectancy.
But occasionally even the best pavement maintenance contractor will have a job go bad due to misinterpreted weather conditions, poor asphalt conditions, or even homeowners who make unrealistic demands. The difference is that a reputable professional contractor will be reachable and will show up to solve the problem.
So while it is a homeowner's responsibility to choose wisely, it is the contractor's responsibility to make that decision easier. Look like a professional business, act like a professional business, respond like a professional business. The more you can do to improve the image and reputation of your company and the more you can educate your customers, the fewer opportunities fly-by-night operators will have to sneak in, steal your customers, and damage the industry for the future.
Dave Pribulick is the former owner of Sealcraft Asphalt Maintenance in central Maryland and presently co-owner of Pavement Depot of Maryland.