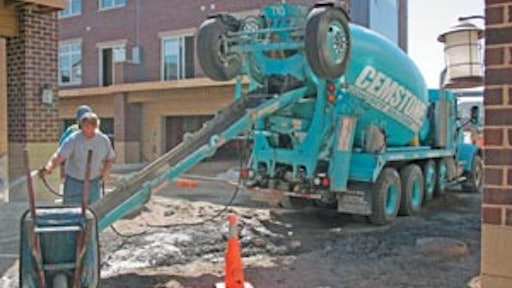 No matter what segment of the market you work in, it looks like 2006 is shaping up to be a good year for the construction industry.
"It's going to be a good market," said Ed Sullivan, chief economist for the Portland Cement Association. "It'll probably be a little less strong than I had originally thought because of Hurricane Katrina and its effects, but we're still looking at a good year."
Most economists are predicting a big increase in commercial and public construction, with the residential market slowing a bit, but only to near-record levels.
"I'm pretty optimistic about both public and private noncommercial construction in 2006," said Ken Simonson, chief economist for the Associated General Contractors of America. He specifically cited manufacturing and hospitality as market segments that should see strong growth this year.
And while it's almost a universal opinion that the residential market will slow, it is likely to only be a slight decrease from expected record levels this year. The National Association of Home Builders is predicting housing starts will drop from an estimated 2.05 million in 2005 to 1.94 million this year and 1.88 million in 2007, said NAHB chief economist David Seiders.
Those figures would be higher than every year but 2004.
The National Association of Realtors is making similar predictions, saying new home sales should drop only slightly in 2006.
"The market will be coming off of a five-year boom and experience a soft landing (this) year," said David Lereah, NAR's chief economist.
There are a lot of positive factors for the housing market, he said.
"Baby boomers remain in their peak earning years," he said. "Their children – the 'echo boomers' – are just entering the period of life when people typically buy their first home."
With mortgage rates expected to rise to above 6.5 percent in 2006, home price gains will probably slow, but widespread decreases in home values are highly unlikely, most industry economists agree.
Concrete shortages
The growing commercial market will continue to put pressure on domestic concrete producers.
"The last couple of years, we've seen tight market conditions," said PCA's Sullivan. "Thirty states had shortages this summer, and that's down to about 15 states now as winter slows construction."
Overall, PCA predicts that there will be a 3.7 percent increase in cement use in 2006, up from a record of more than 120 million metric tonnes in 2005.
There will probably be tight markets again this year, but the intensity is hard to pinpoint, Sullivan said. The easing of residential construction will help in some areas, such as Florida, where 40 percent of cement was going to residential construction.
"The biggest thing you have to do is work with your suppliers," Sullivan said. "When a shortage hits, you need to be thinking ahead. It's not just get it the day you need it anymore."
The continued pressure will mean continued increases in imported cement after a record year for imports in 2005. About 25 percent of the cement used in the United States is now imported, according to the PCA.
"On the positive side, we are seeing an improvement in shipping capacity, which helps the shortage," Sullivan said.
There could also be more imports coming from Mexico, if negotiations between the Mexican and U.S. governments are successful. There is currently a 55 percent duty on Mexican imports, and the two governments are reportedly in talks to reduce or eliminate that duty.
"The impact will be regional," Sullivan says. "There are limitations on what can physically be imported and brought to market. The real solution is to increase domestic capacity."
The effect of hurricanes Katrina and Rita on cement imports was relatively minor, despite the fact that a large percentage of cement was imported through New Orleans. Most of that capacity was able to be redirected to other locations, Sullivan said.
The bigger impact will instead be on the ability to move cement up the Mississippi River because of the damage to barges on the river at the time of the hurricane, so states that were receiving their imports that way may feel an effect.
Kat-Rita's effects
Hurricanes Katrina and Rita will continue to impact the construction market into 2006.
"It's going to exert an adverse effect on overall growth," Sullivan said. "It could mean that there will be a pause in the construction market."
While there will be an effect, it shouldn't be enough to cause a severe downturn in the economy. Rather, it'll probably just mean less growth.
"There's not enough of an impact to derail the expansion, but we will feel it," said AGC's Simonson. "There's no threat of recession or anything like that, but it will take the edge off of the growth."
As prices for essentials such as oil and natural gas rise, that will hurt demand for construction as homeowners and businesses have less money to spend on building. Contractors will also feel the impact as they pay to run their machinery.
"The cost of running equipment and transportation costs will continue to rise with diesel prices," Simonson said. "People have a misconception that the oil crisis is over. Prices have dropped sharply, but they are still higher than a year ago."
Natural gas is an even bigger concern, with 62 percent of homes being heated with it.
"If we have a lot of cold weather this winter, there won't be enough natural gas to serve residential customers and meet the needs of industry," he said.
That could impact material prices, as natural gas is used in the production of items like PVC piping, roofing, tires and concrete.
And although some people are looking at the rebuilding needed in New Orleans and other areas hit by the hurricanes as a boon for construction, any impact is several months if not years away.
"From everything I hear, it's going to be a very long process," Simonson said. "There is a lot of clean-up needed before the rebuilding can begin, so we are looking at the second half of 2006 at the earliest."
There may be slight increases in construction in large metro areas, such as Atlanta and Houston, that received large numbers of Katrina evacuees as people decide to stay in their new communities rather than return, he said.
Recent surveys show that only about 60 percent of residents plan to return to New Orleans, and the longer it takes to clean up, the smaller that number will probably get, Sullivan said.
Once rebuilding does begin, though, there will probably be an increased demand for concrete because of the incredible damage done by the hurricanes.
"Typically, if you look at hurricanes, there's not a lot of extra demand for cement because concrete isn't damaged," Sullivan says. "New Orleans will be different, but for most of the other areas, there won't be a huge impact."
If the past is any indication, the hurricanes could lead to long-term growth for the concrete market. After hurricanes in Florida and other areas, concrete buildings have become more popular because of how well they survive hurricanes when other buildings are destroyed, Sullivan said.