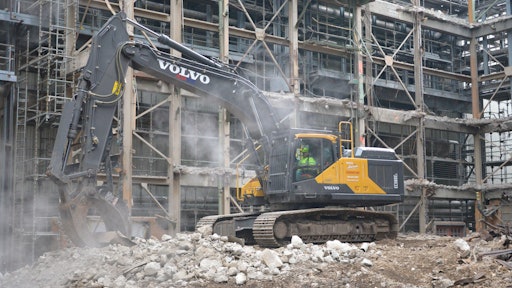 Information from this article was first published in Demolition Magazine and is being reused with permission from the National Demolition Association.
As coal-fired power plants and boiler systems age, they are being replaced by more efficient natural gas fueled power plants, a trend kindled by rich supplies of shale gas, higher coal costs and tighter U.S. Environmental Protection Agency (EPA) requirements for emissions controls.
In Spring Grove, Penn., North American Dismantling Corporation (NADC), Lapeer, Mich., dismantled and demolished two chemical boiler buildings and electrostatic precipitator at the P.H. Glatfelter Co. papermaking facility. This work was undertaken to provide the space required for two new natural gas-fired boilers that will replace three coal fired boiler units. Greg Goscenski, NADC site superintendent with 40 years in the demo field, estimated the job would becompleted within six weeks and would remove 2,500 tons of steel, concrete and miscellaneous scrap, 94 percent of which was recyclable.
NADC removed two 1950s era chemical recovery boilers, one 130 feet high and the second 100 feet high, to lighten the overall weight of the superstructures. This was followed by a targeted material reduction dismantle including stacks, combustion chambers and tube bundles and then dismantling the outer steel walls. This approach allowed NADC to maintain total control of the structure during the demolition activities without impacting Glatfelter's ongoing normal operations.
The biggest challenge with the project was the limited space NADC had to work within. The boiler buildings were boxed between two operational control rooms — with a slim 7-foot passageway between — and ringed by live pipes carrying boiling, liquefied paper pulp and steam. "We had to take every precaution to not puncture any of the piping or buildings with falling debris," Goscenski says.
A skywalk connector approximately 25 feet overhead hindered easy access to the worksite and caused the NADC crew to limbo its three Volvo excavators into position.
A Volvo EC700CHR ultra high reach excavator equipped with a LaBounty MSD 1500 hydraulic rotating shear completed the mainstay of work. The machine is the largest in the Volvo demolition excavator product line with an operating weight of 196,189 pounds and maximum pin height reach of 105.1 feet.
The ultra high reach excavator is factory-fitted with the Volvo demolition guard kit that includes frame-mounted falling object guard (FOG) to protect the operator and cab from wayward debris, double thickness side doors, bolt-in side impact protection plates and full length track chain guards to keep demolition debris from lodging in the tracks.
"When I started working in demolition in 1975, we had a wrecking ball and an excavator. Today, the demands are much greater for highprecision work. You have to invest in the equipment to do the work required, and that is what customers expect," Goscenski says.
"The EC700 is a more versatile machine for us. With the boom self-assembly, you don't need a second excavator to assist, and with the different configurations that are available, it's like having two machines in one. For example, with the shorter configuration, we can add a heavier shear on the end to give more power at lower heights."
Inside the tilting cab that pivots up to 30 degrees, a standard camera projects the view from the top of the boom. NADC supplements with a second camera mounted high on an adjacent building to cast an alternative perspective. If the operator cannot clearly see where the shear is maneuvering, he can radio to Goscenski in the office trailer for guidance. This camera feeds over the Internet, so employees back at the Michigan headquarters can also check the progress on the jobsite.
Companies in this article