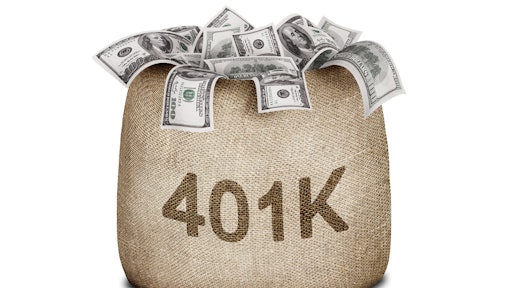 401kcalculator.org
By Roger Lee, CEO and Co-founder of Human Interest

In a tight labor market, being able to recruit and retain good construction workers can go a long way. But small construction firms are much less likely to offer benefits than their larger counterparts, putting them at a disadvantage. To put it into perspective, small construction businesses are 12% less likely to offer a 401(k) plan than construction firms with 100 or more employees, according to the National Home Builder's Association .

If you're wondering how to compete with larger firms in your area for skilled workers, setting up a top-notch 401(k) plan could be the key. In fact, construction industry 401(k) plans are among one of the top five industries with the most improved plans, according to a new report.
How a 401(k) could be a game-changer for your construction business
Over the past few years, technology has simplified the setup and administration process and made it cheaper for business owners to offer a high-quality 401(k) with low employee fees. Here are three ways a 401(k) plan can boost your business.
1. Reduce turnover
According to the ADP Workforce Vitality Report, turnover in the construction industry was at 57.4% in the second quarter of 2017. This means that construction firms need to replace almost three-fifths of their workforce every year, adding to the time and money spent on recruiting, training and off-boarding.
Many construction companies are working aggressively to improve their retention programs in this tight labor market, and a 401(k) is a great benefit to compel your existing workers to stick around. In fact, 75% of employees at a company offering a 401(k) say the retirement plan provides a compelling reason to stay.
2. Compete for talent
A good 401(k) plan can also help you find workers who might otherwise go with a different company. If you're not able to compete when it comes to cash compensation, then offering a retirement benefit can help bridge the gap, especially if you choose to match some of your employees' contributions. It is important to note that while an employer match is a great incentive to add, it's not a requirement for a 401(k) benefit. If budget is an issue, forgoing the match is one way to cut costs without cutting out the option of a 401(k) plan altogether.
3. Save on corporate and personal taxes
While 401(k) plans are cheaper than they used to be, they're still not free. That said, you can take advantage of a few tax breaks the government offers to businesses that offer one.
The first is a tax credit your business can use to recoup 50% of your eligible start-up costs, up to $1,500 total, over the plan's first three years. Second, the company can deduct other fees incurred and contributions made to employee plans as a business expense. And as an extra savings for both the business owner and employees, a 401(k) is a great way to deduct from personal income taxes, so that existing paychecks can go further.
A good 401(k) plan can save you time and money
There are countless 401(k) providers out there, and it can be tough to decide which is best for your business. To help you make the right choice, here are three factors to look for:
1. They do the administrative legwork for you
Construction business owners typically don't spend a lot of time behind a desk; they're out managing their worksites. A good 401(k) provider will manage your plan so you can spend your time on your business and your clients. This should include syncing your 401(k) with your payroll provider, distributing legal notices, and providing employee support with automated investment management.
2. They won't charge you an arm and a leg
While 401(k) plans are less expensive than they used to be, there's still a wide range of costs you might incur , depending on the provider you choose. Look for a provider that offers reasonable, simple, and transparent pricing. Many financial institutions either don't list their pricing publicly, or present it in a confusing way, with hidden fees and fine print. Ask for a full breakdown of all costs upfront. You should be able to find a robust package for just a few hundred dollars a month as a small business.
3. They cover the compliance monitoring
401(k)s are subject to regulations and audits. To make sure your 401(k) plan is up to code, a good provider will do most of the work for you, both in terms of setting up the plan design and monitoring the activity on an ongoing basis. They will bring up compliance only when they need to share a major update or get some documents from you.
Final thoughts
Small businesses that don't offer a 401(k) are at a huge disadvantage when competing for talent with larger companies. Fortunately, technology and options have improved, making it possible for all businesses to be able to offer a retirement benefit.
What's more, the costs of a good 401(k) could help you reduce your turnover costs and even reduce your taxable income. Take your time to research your options and pick the provider that can best serve the needs of your company and employees.
Roger Lee is the CEO of Human Interest (formerly known as Captain401). Based in San Francisco, Human Interest helps small businesses all over the country offer 401(k)s to their employees. Roger and his team focus on increasing 401(k) access through a high-quality, affordable solution that lowers the administrative burden for businesses and prioritizes employee experience and education. He was formerly a co-founder at Thunder and has a degree in Applied Mathematics from Harvard University.