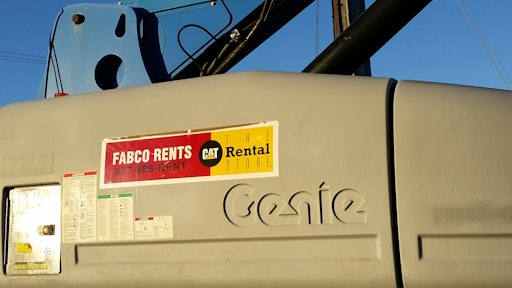 Business is tough — always has been and always will be — and getting tougher as new digital and robotic processes hit the market. If you are doing things the same way you were five years ago, you are probably behind the ball, finding jobs harder to win and carrying more costs on your books than you need to.
For example, look at what's happening in the equipment rental world. The percentage of equipment in the field owned by rental companies and equipment dealers keeps increasing as more contractors look to use specialized equipment and realize they can't own and operate their own fleet better than a rental provider. The end result of this shift is a more reliable bidding process, lower costs, outsourced maintenance and cartage and zero liabilities on your balance sheet with zero monthly note payments for purchased units.
Also consider the jobsite management tools that were not around five to 10 years ago. You can track daily equipment usage and personnel costs; review jobsites using drones; and receive notice of potential equipment service needs. There are numerous other new systems and procedures, as well, that you can apply to your work to allow for competitive bids, lower costs and higher profits and cash flow.
Using these new tools reduces your job and business stress. What's not to like about them?
Strive for a Win-Win Agreement
Another area in which I see more interest is formalizing rental contracts and parts and service needs. I see this as a benefit not only for local work but work that extends beyond your local sphere of influence.
One way to do this is to create a Master Rental Contract to use for your equipment needs. It should be a win-win document — one that is more tailored to what you need from a rental provider in terms of:
delivery and maintenance
the insurance and liability terms you are willing to agree to
a pricing schedule — maybe even a seasonable pricing schedule
To top this off, the contract should cover your project needs no matter where it might be. If all you do is local business, this process works. If you cover multiple states, it really works because you avoid:
chasing down vendors and filling out new credit applications;
reviewing 10 different rental contracts or service agreements that may contain terms you may not be able to live with;
and avoid trying to comply with each vendors' insurance requirements.
But this document must be fair and a win-win. You will be responsible for the condition of the equipment. You will be responsible for doing your due diligence when equipment shows up on your jobsite. You will have responsibility to make sure employees know how to safely operate the equipment. And if an accident occurs, your company and the equipment supplier and equipment manufacturer will be in the same potential liability boat. If your agreement covers these risks fairly, and you can supply a significant amount of business to the vendor, they will usually find a way to accommodate you.
The term of the document can be one year or five years and contain a provision that states the billing rates are reviewable annually for longer-term projects.
Volume and Location Matter
Of course, the pricing deals you get will depend on the volume you can deliver. Whether it be for rental equipment or parts or service, volume will be the key to what rates you get. Consequently, I would do some homework and compile a list of what you spent over the last five years for rental, parts and service (both internal and external). Then, present that schedule to a national dealer or rental organization and ask what they can do to lower your costs while at the same time make your local and out-of-state work more efficient.
The dealer you contract with should cover your local work but also communicate with "sister" dealers for your out-of-state work. What they usually do is follow the rates in the agreement and then adjust as necessary with the dealer in that area. This is an important point and needs to be discussed with the various dealer locations with which you will be working. A call should be made to both the local dealer and out-of-state dealer before you leave for a jobsite to ensure they will abide by the agreement. If they will not, then the local dealer should take on any additional cost over and above the contract terms.
You can work out national agreements with both dealers and rental companies. Since dealers have more parts and service availability, who you use would depend on the type of work you do and how much machine downtime could impact your job profitability.
Also of interest is the difference in costs between major cities and rural cities. These pricing differences need to be part of the equation. If you find a local pricing different from your contract price, a conversation must take place to adjust the price as necessary.
Know the Law
One last point regarding this type of contract concerns the new Wayfair Law, which impacts online shippers and sales tax requirements. If you are buying parts online, you may find your costs going up between 5% to 7%, depending on which state you work in and which state the parts are delivered to.
The point is where parts are delivered or where service work is done could save you some money. This is a complicated area, so proper expertise is required to address the issue.  
If you need assistance, James Waite, an attorney that works with the American Rental Association and Associated Equipment Distributors, can draft a contract for you to get started. He can be reached at J.waite@wwlegal.net.  
Garry Bartecki is the managing member of GB Financial Services LLP and a consultant to the Associated Equipment Distributors. He can be reached at (708) 347-9109 or gbartecki@comcast.net.