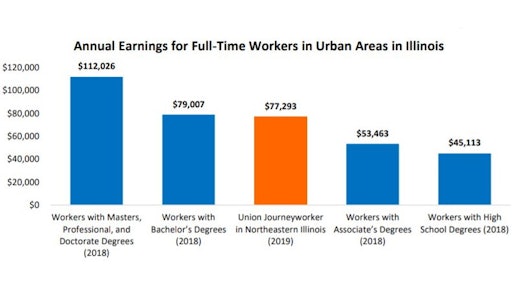 The Economic and Fiscal Impacts of Collective Bargaining Agreements in Construction
New data released by the Bureau of Labor Statistics show that in 2020, 10.8% of American workers belonged to a union, up from 10.3% in 2019. It was the first increase in the rate of unionization in the U.S. in over a decade, driven by the year's 9.6-million worker decline in total wage and salary employment. The previous week, the Illinois Economic Policy Institute had issued a report on the effect of collective bargaining agreements in construction unions in northeast Illinois as the economic impact of the COVID-19 pandemic made clear how important good-paying jobs will be in the entire state's economic recovery from the pandemic's economic stranglehold.
Collective bargaining in construction builds family-supporting careers for union construction workers and sustainable economies in northeastern Illinois, according to a report by the Illinois Economic Policy Institute and the Project for Middle Class Renewal at the University of Illinois at Urbana-Champaign.
Analysis of collective bargaining agreements between an association of union contractors and eight construction trades in the Chicago metro area reveals they 'provide workers ladders into the middle class,' with a typical union journeyworker earning $77,300 per year, on par with average annual income for full-time workers with bachelor's degrees in Illinois' urban areas ($79,000 per year).
$7.5 billion in total wages supported by CBAs were earned by 97,000 union construction workers in northeastern Illinois in 2019, saving or creating an additional 49,000 middle-class jobs downstream that pay average  annual incomes of $58,800 per worker. Union construction jobs generate more than $1.6 billion in state and local tax revenues each year.
The report's authors say the coronavirus pandemic "has revealed structural economic inequities in Illinois, with essential workers and those in 'face-to-face' sectors most at risk of being exposed to the virus also earning lower wages, suffering from the highest job volatility, and having the highest likelihoods of losing their employer-sponsored health insurance. The pandemic has also occurred on the heels of rising inequality, with the inflation-adjusted incomes of the top 1% in Illinois growing by 35% since 2000 compared with a 3% drop in annual income for the median household.
"Recovering from the severe economic recession caused by the public health emergency will require rapid growth in good jobs that not only provide family-supporting incomes, but also ensure access to quality health care coverage, paid family and medical leave policies, and retirement plans."
An essential industry that has consistently provided middle-class jobs is construction, with about 232,000 wage and salary employees in Illinois. In 2019, the construction industry contributed $30.9 billion towards Illinois' gross domestic product (GDP).
"The primary reason Illinois' construction industry delivers good middle-class jobs is because it is highly unionized with strong collective bargaining agreements," according to the report.
Collective bargaining is the process where workers join together in unions and negotiate contracts with their employers that establish terms and conditions of employment such as pay, hours, time off, health insurance benefits, retirement benefits, safety procedures, and other workplace policies.
46% of Illinois workers in construction and extraction are union members
The Illinois construction unionization rate is nearly three times higher than the 17% U.S. average
On average, union members earn 11% higher wages than nonunion workers in Illinois
Construction-industry CBAs fund the largest privately financed system of higher education in Illinois, supporting apprenticeship programs cooperatively administered by labor unions and signatory employers.
Joint labor-management apprenticeship programs account for 97% of all construction apprentices
These apprenticeship programs have a 54% completion rate, significantly higher than the 31% completion rate of employer-only programs
The eight joint labor-management apprenticeship programs in the Chicago metro area case study invest at least $69 million per year training the next generation of skilled construction workers
Collective bargaining is protected by the United States by constitutional law. The 1935 National Labor Relations Act granted collective bargaining and organizing rights in the private sector. But those rights have become increasingly inaccessible to the overwhelming majority of the US workforce in the ensuing 86 years.
Numerous studies have found that collective bargaining boosts wages for workers, specifically for low income employees, for middle-class workers, and for people of color. On average, union households earn between 10% and 20% more than nonunion households – an income premium that has been consistent since the 1930s. In Illinois, for every $1 paid in union dues, more than $6 is returned to union members in after-tax income each year.
A recent study of three Midwest states with "right-to-work" laws – which weaken collective bargaining rights – found that the average worker in those states earned 8% lower wages and the median worker earned 6% less per hour than in states with free collective bargaining laws.
The report's authors applied a comparative model that simulates outcomes if all 97,000 Chicagoland construction workers suddenly worked without collective bargaining agreements. The data reveal that the total incomes of skilled construction workers would decrease by $2.8 billion annually without CBAs. These workers would experience pay cuts that would move them from solidly middle-class into the lower-middle class.
Lower-income workers spend a greater percentage of their earnings, so Illinois economic sales would only drop by $2.2 billion annually
More than 13,000 jobs would be lost in indirectly impacted sectors
The State of Illinois would forgo $315 million in taxes per year, and local governments would lose an estimated $251 million in property-tax revenues per year
The authors of the report conclude: "Across all of Illinois, collective bargaining agreements promote the American Dream, expand health insurance coverage, decrease poverty, and reduce reliance on government assistance programs among skilled construction workers. In an era when the state is in urgent need of good jobs following the COVID-19 pandemic, elected officials, the media, and the public should look to the example of Illinois' more heavily unionized construction industry as a way to promote family-sustaining careers and economic growth."