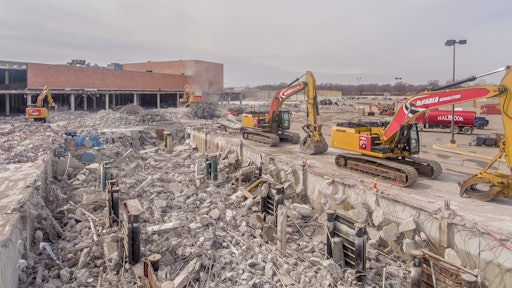 National Demolition Assoc.
Over the years, NDA member DeCarlo Demolition Company has been involved with several demolition projects at the Merle Hay Mall, the oldest regional shopping center in Des Moines, Iowa. When it came time to demolish the former 200,000-sq.-ft. Sears department store original to the 1959 Merle Hay Mall project, the mall's owner chose DeCarlo as the demolition contractor.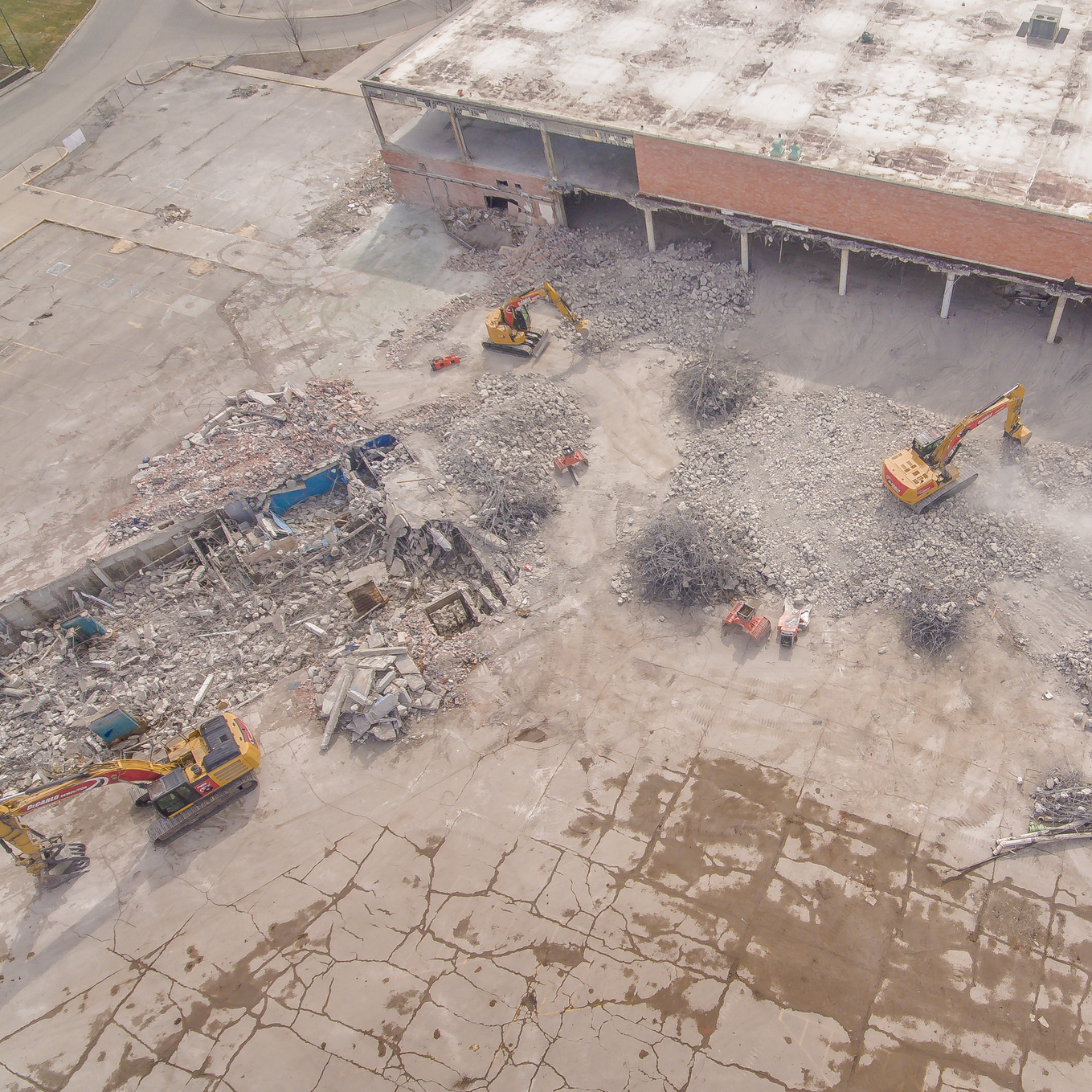 National Demolition Assoc.The Sears store demolition is part of a $128.6-million redevelopment of the shopping center located at Merle Hay Road and Douglas Avenue in Des Moines. Upon completion of the demolition, a Kohl's department store will be relocating to a new building on the site, with construction expected to be completed by March 2022.
The original 1959 building was a two-story, stout, concrete structure with brick and block facing and included an attached one-story, multi-bay auto service center. On the west side was a one-story 1975 era addition. A third-level penthouse structure housed mechanical and HVAC for the store.
Gut-and-crush two-step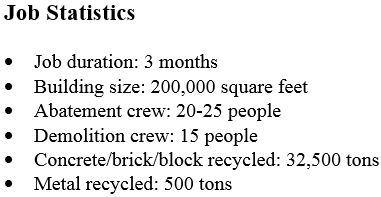 DeCarlo split the project into two parts: asbestos abatement, and gutting and demolition. Asbestos abatement started on the site in late December 2020 and was completed in early March 2021. Following the removal of the asbestos, the crew worked to retire gas, electric, water/sewer, telephone and fiber utility, and gut the building.
"The demolition strategy was to gut the building of the landfill items and take it back to its concrete shell," says Dan Cretors, DeCarlo general manager. "The material was sorted further to separate metal and other items that could be recycled. The nonrecyclable, gutted materials were then taken to the local landfill. By gutting the building ahead of major demolition, the brick, block and other rubble material were cleaner for crushing and recycling."
A temporary wall with exits was also constructed at this stage to protect the mall, which would remain on the site, from demolition of the former department store.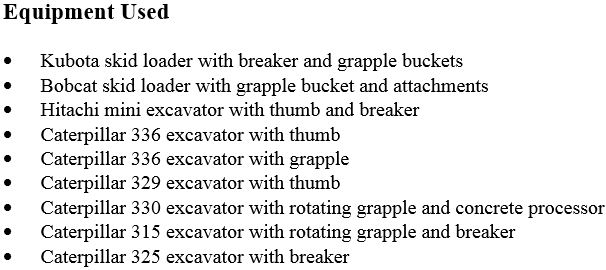 Major demolition quickly followed the gutting of the building in late March on the north end of the store and proceeded south. The demolition crew worked to first separate the Sears building from the mall structure that was to remain. Following this, the crew demolished and removed the building down to its concrete pad using an assortment of equipment, including a Caterpillar 336 excavator with thumb, Caterpillar 336 excavator with grapple, Caterpillar 329 excavator with thumb, Caterpillar 330 excavator with rotational grapple and concrete processor, Caterpillar 315 excavator with rotational grapple and breaker, and a Caterpillar 325 excavator with breaker, among others.
 Measures of success
Demolition of the building, concrete slab and footings was completed at the end of April – on time and on schedule. Crushing the building's concrete slab, footings, brick and block soon began in May. They left 332,500 tons of crushed material on-site in preparation for work on the new Kohl's building.
"On this job, we were able to recycle a majority of the demolition material," Cretors says. "The crushed concrete, brick and block was able to be used as base for the new store and parking lots."
The job successfully overcame four main challenges:
demolition going on surrounded by retail and restaurants
daily vehicle and pedestrian mall traffic
not inconveniencing neighboring businesses
dust control
"The job was completed safely with no damages to surrounding property and with no injuries," Cretors says. "The job was completed on time and on schedule, and the owner was happy with the way it went."