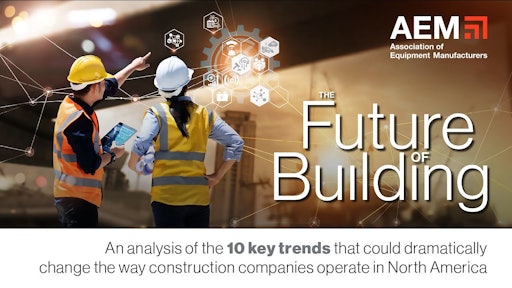 Association of Equipment Manufacturers (AEM)
Published with permission from the Association of Equipment Manufacturers (AEM).
The Association of Equipment Manufacturers (AEM) today released The Future of Building, a whitepaper detailing the drivers influencing how the construction industry could transform over the next 10 years in North America. Guided by the AEM Futures Council and a Vision Team, comprised of AEM member company thought leaders, the whitepaper explores 10 trends that are divided into three areas; Environmentally Driven Transformation, Transformation of our Industry and Transformation of our Business, which are challenging conventional norms in the industry and solving many of the bottlenecks the industry has faced for years.
"With the passage of the $1.2 trillion Infrastructure Investment & Jobs Act, there is an opportunity for a generational investment to repair and rebuild our crumbling infrastructure," said AEM President Megan Tanel. "Couple that with the ongoing shortage of skilled workers and aggressive goals to lower GHG emissions, and it all points to the construction industry coming to a critical juncture. But utilizing the technology and innovation outlined in this whitepaper will help produce the future society we desire."
The 10 Trends Outlined in The Future of Building:
Environmentally-driven Transformation
This area explores how the construction industry will help lead the transition to clean energy, embracing the use of alternative fuels and building the infrastructure needed to repower America.
Increased regulation of carbon-based fuels 1 spurs adoption of alternative power solutions
Renewable energy production booms
Compact equipment trends electric
"Over the next 10 years, construction companies will see their fleets transform, while at the same time building out vital new infrastructure," said Stephen Roy, president, Region North American at Volvo CE. "We are seeing more demand for construction equipment fleets with cleaner solutions, including reduced emissions and lower noise levels. Construction companies will be critical in the nationwide energy transformation."
Transformation of our Industry
This area explores how the convergence of key technologies will enable the construction industry to make significant advancements in efficiency, productivity, quality and safety. Woven throughout is Artificial Intelligence (AI) that is the silent technology partner already at work today. It is the expected amplification of these individual elements together with AI that show breakthrough potential.
4. Connectivity leads to jobsite transformation
5. Pathway toward autonomous machinery
6. Sensors improve efficiency and safety
"Equipment technology is pivotal to many of these trends coming to fruition," said Pete Large, senior vice president, Civil Infrastructure Solutions at Trimble. "The cooperation of bringing together all the existing technologies is the key to transformation, and connectivity enables it. Connectivity allows for efficiency and productivity gains throughout an organization and across our industry. This will enable construction companies to solve the safety, labor, efficiency and productivity challenges that they are expected to overcome."
Transformation of our Business
This area explores how construction companies and jobsites become more technology-driven, revolutionary changes in the way projects are staffed, equipment is acquired, and data is leveraged will begin to take place over the next 10 years.
7. Fewer workers, different skillsets
8. Business models shift toward subscriptions
9. Construction data will reveal its value
10. Cybersecurity becomes central to corporate strategy
The whitepaper can be viewed and downloaded from AEM's Future of Building page.
"AEM is committed to taking an active role in examining and shaping a shared industry vision for the future of construction so we can offer equipment solutions and insights to help the construction industry succeed," said Tanel. "That's why we brought our construction-based members together to take a look at the coming decade and identify the trends that are changing the industry and impacting construction business owners."