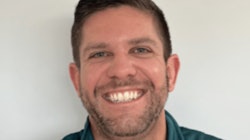 Ligchine
Concrete-machinery maker Ligchine has appointed a new president of the company. Kyle Hohmann has more than 20 years experience in the construction industry and has worked for Ditch Witch, United Construction Products, Somero, PNA Construction Technologies, Vermeer and Ligchine. He's been with Ligchine for more than two years. The appointment became effective Nov. 1.
According to the company:
Hohmann came to Ligchine in 2021 as the sales director. His strategic vision and leadership skills will play a key role in driving Ligchine's continued growth and success.
"I am honored to take on the role of president at Ligchine and am excited for the future of not only the organization but the industry. This is a very dynamic and pivotal time in the concrete construction industry, but the dedicated and talented team at Ligchine is up for the challenge. I am looking forward to working with each of them to continue impacting our customer's success." Hohmann said.
Peter Ligman one of the original founders of Ligchine had this to say about Kyle, "Kyle's impressive industry experience and background sets him apart as an individual, making him a vital asset to Ligchine's success. With a hunger for achievement, Kyle not only elevates his own trajectory but lends a helping hand in leading the company to new heights."