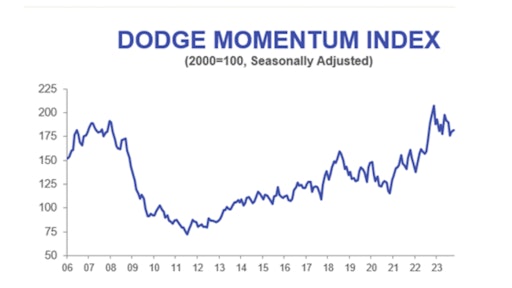 Dodge Construction Network
Commercial rose 2%
Institutional retreated 1.4%
Warehouse activity accelerated and education was muted
21 projects valued at $100 million or more entered planning
Year over year, the DMI was 8% lower than in October 2022
The Dodge Construction Network on Nov. 15 published its Dodge Momentum Index (DMI) for October 2023. Dodge Momentum Index (DMI), an economic indicator for nonresidential building projects, tracking the dollar value of these projects in the earliest stages of planning, which typically leads construction spending by about 12 months.
Sarah Martin, associate director of forecasting for Dodge Construction Network, presented the results via the organization's YouTube channel.
An acceleration in commercial planning caused the momentum index to increase 1% in October, to a reading of 181.7, she said. On the commercial side, the index rose 2%, while the institutional portion fell 1%.
"Heightened momentum in warehouse planning supported the commercial side of the index, while muted education planning slowed the institutional portion," she said. "Now, month-to-month movement in the index can be volatile, but 2023 trends continue to show an overall decrease in commercial projects, offset by more institutional projects entering the planning queue."
Year over year, the DMI is sitting about 8% lower than where it was in October 2022, Martin reported.
The commercial segment is 14% below year-ago levels, while institutional planning is up 7% year-over-year.
"Commercial planning has generally been in decline since its peak last November but has begun to stabilize in recent months," she said. "While institutional planning is still reverting from that strong spike in activity that we saw back in May, but seems to be back on an upward trend. Overall, levels of planning activity remain robust and that will support construction spending over the next 12 to 18 months."
A total of 21 projects valued at $100 million or more entered planning in October, according to Dodge. The largest commercial projects to enter planning included the $215 million Google Data Center in Kansas City, Missouri, and the $180 million Mauna Kea Beach Hotel in Waimea, Hawaii. The largest institutional projects to enter planning included the $400 million Grand Sierra Resort Arena in Reno, Nevada and $267 million renovation to Keller Auditorium in Portland, Oregon.