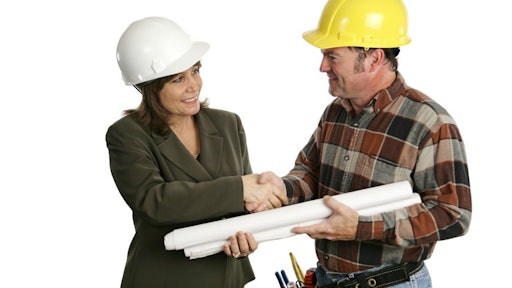 As most contractors know, communicating with other contractors is a requirement to effectively perform jobs, coordinate schedules and ultimately to satisfy the customer. The contractors who choose to extend positive and proactive communications will be leaders in their industry and surface as a "preferred contractor" for customers.
Consider a few of the following situations involving contractor-to-contractor communication opportunities; perhaps your company has experienced something similar.
Concrete crew needs to complete sidewalks and extended driveway for new house but the landscaping crew is still busy installing bushes, yard lights and mulch.
Sheet rock crew needs to finish up third floor office but the electrician is still working to replace a wiring error made the previous day.
Plumbing contractor needs to complete his groundwork but the foundation guys are pushing to pour concrete and finish before weekend weather brings anticipated rain.
Striping contractor needs to get access to large commercial parking lot to stripe parking stalls, handicap markings, etc. but the sealcoating crew demands another 24 hours to allow their material to dry and cure out.
Regardless of the construction specialty, all contractors have experienced coordination issues and challenges with other contractors. Most of the "opportunities" can be easily resolved with a bit of calm discussion about schedule, needs, customer needs, etc. Yet, many contractors continue to take less-than-the-best professional approach when needing to coordinate with other contractors. 
Before we present some suggestions to improve your contractor-to-contractor communications let's consider what prohibits a contractor from being less than positive, proactive and professional.
Contractor-to-contractor "prohibitors"
Behind schedule — Nothing mysterious about this prohibition. When any contractor is behind schedule there is a natural tendency to create a greater sense of urgency among their crew leaders, pushing them to move a bit faster than they might normally move. Catching up is never a great experience and can often contribute to a contractor being short on patience and presence of mind.
Too much work scheduled in too little time span — Again, nothing new about this reason, but having too much on the weekly schedule might be due to an end-of-the-year squeezing in of customer work, weather delays that have backed up several jobs in too small a time period, or poor planning by the company scheduler. Scheduling is as much science as it is art and requires a bit of "float" whenever possible. "Floats" are nice to build into your scheduling effort but sometimes other factors remove even that perk, and a contractor is left with simply too much work to complete in too little time.
Past negative experience — While the first two "prohibitors" can sometimes occur with even the best intentions, this third cause must be dealt with honestly, clearly and boldly. When a contractor has experienced past negative interactions with another contractor it is doubly important that the differences are ironed out as quickly as possible or risk future issues that can negatively impact one or both contractor's crews. "Come on, man!" We all have one contractor (or two) with whom it has been less than easy to work or to coordinate work. Unless they go out of business, it's going to require one of the contractors — probably you — to reach out to the "problem" contractor and try to find some workable situation.
Customer setting priority of completion — This is a horrible situation for contractors, even for the contractor who might be receiving the favored priority. Contractors can become very difficult to communicate and coordinate with if it is the customer who is acting as chief scheduler. This situation is often created when one or more of the contractors have failed to provide a clear and specific schedule for their intended work. While this situation can be more common for contractors in the residential market it is not uncommon or unheard of in the commercial market.
Think through some of the situations you've encountered where better contractor-to-contractor communication could have solved or prevented a problem. Try to recall how you eventually handled the issue, and then ask yourself what you might have done differently.