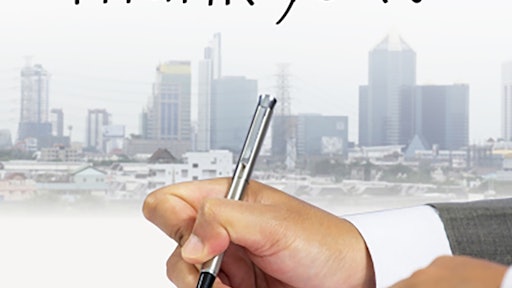 In the first two articles in this series we addressed the first two phases of making the winning presentation. The first phase explored the "pre-presentation" elements to bringing all of the needed information together to present. Then, our second phase focused on the actual presentation, addressing physical techniques and approaches to empowering your sales presentation.
In our third and final phase, and in order to punctuate our preparation and presentation, the winning contractor performs a "post-presentation" follow-up to reinforce his commitment to his proposal, his brand and his company's confidence in performing the work.
Phase 3: "Post-presentation" follow-up
Successful contractors simply follow-up! Just consider the opportunities that any contractor has to follow-up:
When a potential customer calls just to get someone to come out and look at their project need
When an owner calls to inquire of the type of work that the contractor performs
When a customer calls for more information about a bid that has been submitted
When another contractor calls to ask whether there would be any interest in taking on some subcontracted work
When a contractor has sent marketing literature or "push e-mails" with a promise to call
Follow-up is the easiest thing for any contractor to do, but for many contractors it's the hardest thing to maintain.
I can remember learning my lesson when I was all of about 12 or 13 years old. To make enough money to pay for my baseball cleats, I created a brief little, hand-written sale flyer telling of my interest and prices to mow lawns. I recall I was charging a high rate of $5.00 per lawn, $7.50 if you wanted me to bag the clippings. I promised I would call you back within one day if you called to book my mowing services. True to my word, I called back my new customers within one day if they had left a message with my mom.
Now, several of my mowing clients told me that while my price was about fifty cents higher than my competitor, I had called them back like I advertised. This was a huge lesson for me; one that I try to continue even today.
I've written about calling customers back in past articles, but let me briefly remind you. Implement the "1/2-day rule" and you'll never lose a customer because you didn't call him back promptly. 
I'm still amazed how many contractors are slow to return phone calls to customers after they have just received a request to do so. If you're slow to calling customers back, and you do not get their work, you are getting what you deserve! 
Many industries have reflected on the power of following up with people. A terrific book on leadership published a few years ago found that a leader who followed-up with his or her employees was viewed as more credible. In fact, following up with an employee was ranked in the top three leadership efforts that could be made to win the trust, respect and loyalty of employees for their leader.
So, if follow-up is so crucial to the winning presentation process, what sort of follow-up is most beneficial to the contractor? Let's look at a few techniques and strategies you can employ to bring greater professionalism to your presentation.
1. Always provide a sincere (and written) "thank you"
There is still something courteous and professional about sending a "thank you" message after you've made a presentation. By itself this act might not win you the project, but it will certainly be noticed if your competitors have sent a "thank you" note and you have not (or if you have and they haven't!). 
While sending e-mails and text messaging is favored greatly today, I think a hard copy "thank you" goes further. Especially if you write your "thank you" note personally, it really does say something about the time you afford your customers. You might have specially designed "thank you" cards with your company logo — and that's fine — but a few handwritten comments along a typed-out note can add some likeability points in your favor.
2. Send additional info relative to your presentation
Sending something additional in the mail or by e-mail might include a supplemental article or specification sheet related to your presentation content. Or the customer might have made a special request for some additional information and you committed to providing it.
Additional information might also include something more personal for the customer. Maybe you found out that the customer's child loves a particular sports team or has some unique interest. You might send over an article or piece of literature that your customer might find a sincere reflection that you had listened or observed some of her personal interests.
In general, people like receiving "stuff" in the mail. So, my first thought is to use the mail or delivery services for whatever you consider sending. I've seen contractors who have sent articles, autographs of the customer's favorite NASCAR driver or some box of hard-to-find chocolate candy, and I know of specific instances where the customer was "softened" as a result of the contractor's gesture. 
Again, this effort alone might not win you more work but it sure can't hurt. And it does represent a continuity of your presentation effort.
3. Schedule a "post-presentation" debrief…during the presentation
This is a strategy and technique really worth its weight in gold. While not every customer will oblige, making this effort clearly sends a signal that you are serious about winning work with the customer. 
Somewhere during your presentation you need to separate your company's efforts, reputation and performance record apart from your competitors. Insert your company's interest in providing "world class" quality by scheduling a meeting with the customer once a decision has been made as to who won the project.
You win in both possible endings for your company. If you win the project, the customer can inform you as to why you won the job. If you lose the project, the customer can assist you in making needed improvements to your presentation or estimate.
This strategy is very simple to offer but few contractors really work hard to actually schedule a face-to-face meeting to discuss only the feedback on your presentation.
The number one reason contractors don't offer or push this effort is, they really don't think the customer will do it. The number two reason is contractors don't really want to take the time off to sit down with a customer if they haven't won the project. While I understand this, the effort can come back to aid the contractor on some future opportunity.
4. Add the customer to your website information updates
A growing number of contractors have websites, blogs or Facebook outlets. Many use these electronic networking sites well and should be proud of their use. If you have such an offering, sign up new companies to your effort to send out regular updates on your company, new business won, new services provided, etc. 
You might be surprised that even those customers who have not awarded you their projects will stay updated about you and your company's growth and development. This, too, can come back to assist you in some future project.
If you haven't created an aggressive approach to letting your marketplace know how and what you are doing, consider budgeting the time and money to do so ASAP.  Trust me, the technology is actually quite easy to use and your cost to create such outlets is much less than just a few years ago. 
Just as with sending "thank you" cards, providing these digital information updates might not win you a project, but not having a digital presence — when your competitors do — will certainly separate you from your competitors...and not in a good way.
Making the "winning presentation" certainly takes more effort and preparation than in the past. For contractors who have the potential for repeat business, making presentations might not be as necessary as for the contractor landing new work with a new customer. Yet this seems to be changing, too.
In the ever-evolving options that customers have today, pitting multiple contractors against each other by having each contractor present his "wares and services," it is to the contractor's advantage to take the making of a winning presentation more seriously. The larger the project the more likely there will be required presentations. 
Even for the customer a contractor has had for years, the contractor cannot take that relationship for granted. "What have you done for me lately?" and "Well, I've decided to look at who else is out there, you know, just to make sure I'm getting the best price," are all statements that a contractor is bound to hear sooner or later.
No worries, however. In fact, welcome any customer-provided opportunity to display your "wares and services," using such time to show off your winning presentation skills and professionalism. It's just one more chance to demonstrate that you are unique and different, better, than your competition.
Prepare thoroughly, execute flawlessly and follow-up with precision and you will begin to win work, better work, than you've ever won!
Here's to making your next winning presentation!