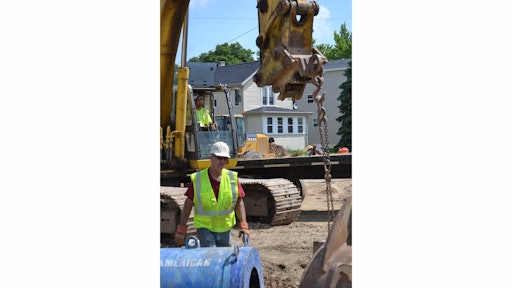 As the federal government continues to fumble in its efforts to establish a long-term financing strategy, state and local governments are being forced to take action to shore up crumbling infrastructure or face the consequences.
"As the federal government has struggled to get a highway bill for the long term, the states have had to bear the burden of trying to finance things to get that work done," says Dennis Slater, president of the Association of Equipment Manufacturers. "What states are doing now is they're passing their own funding and their own user fee increases to help finance roads. I think that's going to continue until the federal government gets a long-term plan in place, and even after that I think the states will continue to invest."
Video: AEM President Discusses Where Highway Funding Is Heading

States and Communities Step Up
Examples of such investment are plentiful and growing, driven by both safety concerns and economic need. As Brad Crews, chief operations officer at CNH Industrial, pointed out during a joint I Make America/Dire States event at Case Construction Equipment's Racine, WI, headquarters, infrastructure is the framework and organizational structure that supports society.
"Infrastructure has been a pillar of the American economy for literally centuries," he stated. "It helps bring goods to market. It attracts new businesses... And it creates jobs, not only during the construction phase, but also sustaining jobs that come with the infrastructure and the surrounding economies."
Evidence that initiatives at the state and local levels work is easy to find. Brian Weisbaum, dealer marketing manager for Case Construction Equipment and project manager for the Dire States Tour – a program initiated by Case to raise awareness and build support for infrastructure investment at the state and local levels – cites an example close to home. "In Black River Falls, WI, there is a small community of 3,600 people that realized the value of economic development of a local dam, and took out a federal loan for $10 million to fund the reconstruction," he explains. "[The loan] has been paid off and they've actually generated a substantial amount of revenue specifically as a result of that project."
Other examples can be found across the country. Weisbaum points to the state of Arizona, where the Water Infrastructure Finance Authority invested a $500 million capitalization grant from the U.S. EPA and turned it into $2 billion in funds to invest specifically in the state's water-related infrastructure projects. He also cites grassroots efforts in Texas, where legislators hope to pass Proposition 1, an initiative that would transfer a $1.8 billion financial surplus generated by oil and gas revenue to the state transportation fund – all with no new taxes, tolls or debt.
Other efforts that will appear on November ballots include Constitutional Amendment 4 in Louisiana, which would create an infrastructure bank that offers low-interest loans to local governments to finance transportation projects; and amendments to the state constitutions in both Wisconsin and Maryland to ensure any transportation revenues generated actually go to funding transportation projects.
Video: CNH Cites Need for Solutions at All Levels for Infrastructure Investment

Keeping It Local
While federal funding initiatives are clearly needed to ensure long-term financial support of infrastructure development, such grassroots campaigns may be just what the doctor ordered to get meaningful work completed.
As Weisbaum notes, the average citizen may not know much about the details associated with the highway bill extension passed in August. "But what they do know is there is a significant deficit in the funds that are available for transportation infrastructure vs. what is actually going to be spent on that infrastructure in the next several years," he indicates.
Drilling the issues down to the local level hits closer to home for most. "If you talk to the everyday citizen who isn't familiar with the Highway Trust Fund, they're very understanding of issues at hand on the local level," says Weisbaum. "We can point to individual projects that are relevant to their towns and communities. And we're able to show them that investment in this particular piece of infrastructure affects them not only at the state and local level, but at the national level, as well."
As the groundswell of support grows locally, there's hope that it will put pressure on federal legislators to come up with effective solutions of their own. "We're very encouraged by the grassroots efforts and support out there," Slater comments, "and we're hoping the federal government can do the same."