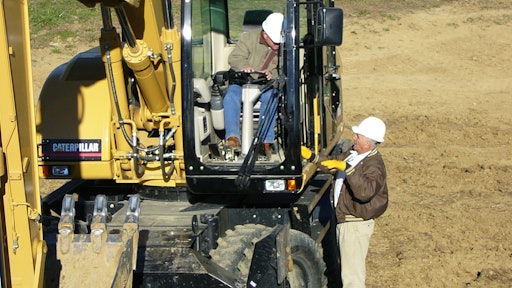 Everybody has liability exposure, especially if you operate in the construction industry — and particularly if you have equipment being used by employees or subs. The trick is to properly document and manage the use of equipment and have the processes in place to work safely on the jobsite.
As you know or may have guessed, I have been working in the equipment markets for many moons. In the process, I have formed relationships with folks I rely on who know their field of expertise and how to apply it to your industry. And as you are well aware, I'm not bashful about bringing these experts in to contribute on topics and levels beyond my area of expertise.
So when it was suggested that I discuss potential contractor liability issues, I said sure and immediately contacted Bill Holler, Senior VP of U.S. insurance broker Hays Companies, which specializes in insuring construction equipment throughout the U.S.
From my conversations with Bill, it sounds like you can minimize liability by making sure you are using the right equipment for the job and that the equipment is and has been properly maintained. In addition, you have an obligation to train the user on how to safely utilize the equipment. Do that and it appears you are in the clear when it comes to liability exposure, right?
Not so fast there, partner...
Documentation Reduces Liability Risk
It's great that you can say you used the right equipment and that is was safe to use for the job at hand. But can you prove it? In other words, do you have a set process in place to do proper site prep and equipment management, and do you have the documentation to support what your process says you need to do?
When it comes to equipment, you really need to follow what the equipment rental companies do. Rental companies basically inspect every unit when it comes off rent for both damage and usability. In addition, they track required inspection schedules and make sure the inspection process is completed before the equipment is made rent-ready for another job. To protect themselves from liability claims, rental companies document internal and external inspections, as well as all repairs or adjustments made to the unit.
If equipment is damaged on the job, you will pick up the tab to repair it whether you own it or rent it. If an employee is injured on the job, a workman's comp claim will surface and there is potential for a liability suit, as well. Whether the liability suit has any merit, however, may be decided by the documentation you have to support that the equipment was right for the job and was in good working order when your employee (who was trained to use that unit) was working with it.
If subs are operating your equipment (whether you own it or rent it), your insurance policy has to state that it will cover subs or you may not have any coverage when you need it, which could get expensive real quick. According to Holler, when you fill out your annual application for insurance renewal, that is the time to inform the insurance company that you will be using subs at some time during the year. After reading this, if you use subs and can't remember if you noted the subs on your renewal form, you may want to make a call as soon as possible to your agent to inform him/her of this change to the policy.
Be Prepared Should an Accident Occur
We can discuss potential liability claims until we are blue in the face, but the best way to cover your back side is to be properly insured and educated in the best ways to document your equipment management policies in the event an accident occurs.
Here's what is required should an accident happen:
In addition to a medical kit, every job supervisor should have an accident investigation kit at his/her disposal. The kit should include a pen, notepad, camera, tape recorder and tape measure.
The job supervisor should immediately get the contact information for both witnesses and parties involved.
Witnesses need to be interviewed immediately and videotaped,
if possible.
Multiple pictures need to be taken of the entire site.
Measurements need to be recorded, if applicable.
The equipment involved in the incident needs to be secured immediately and OSHA called as soon as possible.
To protect yourself personally, you may want to have your business operation in an LLC, Sub-S or C Corporation. These legal entities can offer protection as long as you comply with the legal requirements to keep the entities in existence. There are steps you need to take to keep your activities and the company's at arms' length.
After all is said and done, I suggest you recognize potential risks and avoid them by properly matching equipment to the job in question and properly documenting the usability of the equipment you are providing to the jobsite. When there is a question, you may be better off renting what you need to avoid a potential problem.
You may also want to have a discussion with your insurance agent to make sure you are covered and doing what you need to do to keep insurance premiums at a minimum. Bill Holler can be reached at (312) 254-3722 should you have any insurance questions you need answered.
Garry Bartecki is the managing member of GB Financial Services LLP and a consultant to the Associated Equipment Distributors. He can be reached at (708) 347-9109 or gbartecki@comcast.net.