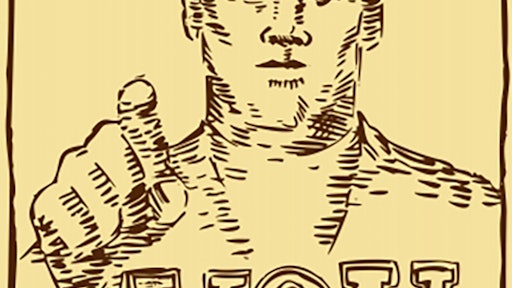 This four-part article series addresses nationwide programs and initiatives developed to recruit and train skilled workers to help fill the construction industry's labor shortage and workforce needs. 
Construction employment is up and the unemployment rate is dropping. Yet even with these positive numbers the construction industry is still facing a real threat of worker shortage with the lack of skilled laborers entering the industry. Nationwide programs and initiatives are working to recruit, educate and train the next generation of construction workers.
Construction Craft Professional Demand through June 2018
ACE Mentor Program
The ACE (Architecture, Construction and Engineering) Mentor program, which was founded in 1994 to meet the looming workforce shortages in the entire design and construction industry, was developed for high school students to help spark interest in the industry and encourage them to pursue careers in architecture, construction and engineering. According to the program's website, it is now "the fastest-growing high school mentoring program, reaching over 8,000 students annually. More than 200 cities have ACE Mentor programs.
ACE's mentors, totaling about 1,800, are drawn entirely from the design and construction industry, says Jack Kalavritinos, president and CEO of the ACE Mentor program. Construction managers, contractors or craftspeople comprise the largest segment of mentors, about one-third of the total.
The ACE Mentor program is a partnership between industry professionals and students. It immerses students in the profession and engages them in simulated building projects. According to Kalavritinos, the ACE Mentor program stands apart from other programs because it teaches students about the entire process of designing and building a project. ACE also relies exclusively on passionate industry professionals to excite and mentor students.
In addition to bringing students together with volunteer mentors, the program also provides financial support through scholarships for participants' continued success in college programs in design and construction or in craft training programs.
Video: About the ACE Mentor Program
The ACE Mentor program runs for 14 to 15 two-hour-long afterschool sessions. Some groups meet weekly over one semester while others extend the program throughout the school year. Affiliates spread across 35 states operate and deliver the program in their cities or regions. Each affiliate has a board of directors, a local coordinator and a number of teams made up of 15 to 25 students and industry mentors. These teams are set up to emulate actual design teams. Architect, engineer and construction management mentors guide the teams through a mock design project.
There are multiple ways construction contractors can get involved with the ACE Mentor program. Contractors can become sponsors or mentors — or encourage employees and staff members to become mentors. Kalavritinos also suggests contractors working on interesting jobs make their worksite available to students for a tour. If you'd like to get involved with the program, contact one of the 65 affiliates around the country.
NCCER & Build Your Future
Since its formation in 1996, NCCER (National Center for Construction Education and Research) has been focused on "recruit, train, retain." The not-for-profit foundation is expanding on that focus through multiple workforce development initiatives.
In 1997, NCCER started its Build Your Future (BYF) initiative as a way to help recruit into the construction industry. Initial efforts included videos, public service announcements and other methods to help recruit and improve the image of the construction industry among the general public.
In 2010, the BYF initiative was enhanced with a set of clear goals, a stronger focus on what the industry needs and a goal of making career and technical education (CTE) a priority. As part of the effort to promote CTE, NCCER and BYF have partnered with NASCAR driver David Starr who came up through a CTE setting. Starr speaks to students about his experience and the passion for learning a skill, which has helped him get to where he is today, says Build Your Future Manager Ryan Morris.
Another part of the effort is BYF and its partnering groups around the country hold career days that host junior high and high school students. These one- to two-day events provide an opportunity to speak directly with students, provide them with resources and show them opportunities that exist in the construction industry.
"In many cases students don't realize what exists in the world of construction," Morris says. "Students have access to endless opportunities, and employers are desperate for those with technical skills."
These career days provide NCCER and contractors the opportunity to interact with hundreds or even thousands of students. And each year more and more students are attending the career days, Morris says. For example, the career events in Dallas started with around 300 to 400 students but have grown to well over 1,200 now.
Just as the number of attendees is growing, so is the interest from the construction industry. Requests from contractors and organizations looking to get involved come in throughout the year and continue to increase every year, says Jennifer Wilkerson, director of marketing, PR and BYF for NCCER.
Taking it one step further, NCCER and BYF have also declared October as Careers in Construction Month. In 2015, NCCER will be at career events in Charlotte, N.C., Baton Rouge, La., and Dallas during Careers in Construction Month. In addition to reaching out to middle and high school students, the Charlotte event will also reach out to students currently in community colleges and career programs.
"What better place to have a connection than at a career event and have college-aged students come in and talk to a contractor right there and give their resumes," Wilkerson says. This provides contractors with the opportunity to reach out to students who can help fill immediate needs.
The organization provides many free resources for construction contractors to take part in or create their own efforts for Careers in Construction Month.
BYF also sees the importance of bringing transitioning veterans into the construction industry. The organization has started its Hard Hat Heroes program as a way to help contractors recruit, train and retain transitioning veterans. BYF works with the Department of Defense to help reach those in the military before they start the transition back to civilian life.
NCCER has also introduced its Construction Career Pathways initiative, which is designed to help students learn about their career options post high school. A major focus of the initiative is bringing together educators and the construction industry to work toward the same goal, Wilkerson says.
"We found that there's a lot of similarities. Educators would love opportunities for field trips. They'd like industry members to sit on advisory councils. Industry members are saying that they want to participate on the advisory councils and do presentations at schools. What we're trying to do with this initiative is to bring both sides together," Wilkerson says.
Part of this initiative is a connection map that allows schools and contractors to sign up and connect online. Contractors can use the map to see what area schools they might be able to work with through providing presentations, field trips or even externships to teachers. Educators can view local contractors and industry organizations that are willing to step up and provide guidance and support.
Wilkerson and Morris agree the best way for construction contractors to get involved with NCCER and BYF is to start with visiting the websites. The sites provide multiple free resources and tools to help contractors get involved with workforce development efforts. Contractors can also partner with the Hard Hat Heroes and Construction Career Pathways programs. Wilkerson encourages contractors to visit the Pathways program website and fill out the questionnaire indicating what they would be interested in offering to local schools and connecting through the site.
Helmets to Hardhats
Not all workforce development is focused on high school and college-aged students. One of the best routes to help fill the construction labor pipeline is hiring veterans. The Helmets to Hardhats program is focused on just that. The program is designed to connect men and women from the Armed Forces with career opportunities through North America's Building Trades Unions. According to the Helmets to Hardhats website, most of the career opportunities offered through the program are connected to federally approved apprenticeship training programs.
"The program helps veterans and reservists transition back to civilian life through a structured path with a career in the construction industry," says Bill Mulcrone, Midwest Regional Director for Helmets to Hardhats. "The program started in 2003 and has helped place over 20,000 veterans in skilled craft apprenticeship programs, with over 1,000 veterans placed into construction careers in 2014." For construction companies, the program offers a pool of military service men and women with specific skills that can match the needs of construction work.
Registered employers of Helmets to Hardhats have the opportunity to list their career opportunities on the site as well as the ability to search the program's database of service members' resumes. Veterans enrolled with Helmets to Hardhats are required to fill out detailed information before accessing the site, which in turn means construction employers enrolled in the program have an easier time finding qualified candidates for career opportunities.
Enrolled employers have access to a letter creation tool allowing them to easily communicate with qualified applicants. An opt-in email feature sends resumes that meet employers' specific criteria directly to an employer's inbox. Plus, once a position is posted, employers have the ability to adjust the criteria to increase or decrease the number of applications received.
In addition to Helmets to Hardhats, the Wounded Warrior program introduced in 2007 connects disabled American veterans with employment opportunities in the construction industry and careers that support construction.
Education is Key to Recruit, Develop the New Construction Workforce
Hands-on Training Opportunities Create Interest in Construction Jobs
Apprenticeships are Still a Viable Source of Construction Workforce Development
What is Your State Doing to Develop the Construction Workforce?