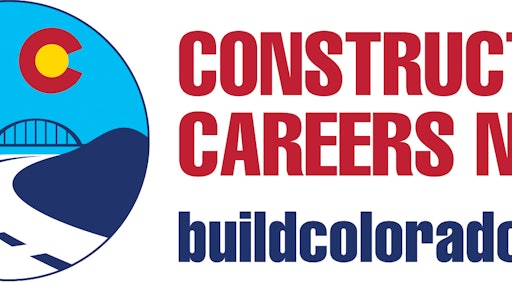 Construction industry associations in Colorado have found a way to start educating more skilled laborers into the industry, and participants can train for careers in construction for free! 
Launched in July 2016 as a joint effort by the Associated General Contractors of Colorado (AGC), the Colorado Contractors Association and the Hispanic Contractors of Colorado, Construction Careers Now is a pre-apprenticeship training program designed to train young adults just starting out and older adults changing industries. 
Participants will gain education and training in various construction career paths, basic construction measurement, safety and blueprint reading and other industry-needed basics. The goal is to attract and add new employees to Colorado's construction workforce. 
"The program will provide a career pathway to the construction industry complete with training on the communication, technical and safety skills required to work on a jobsite," says Bryan Cook, chapter operations director at AGC. "With a solid foundation in construction, our goal is to match trained program participants with construction employers." 
Program classes are held at the Emily Griffith Technical College in Denver. The month-long, four-night-a-week night training program is free for Colorado residents, and prior experience or a GED are not required.  The program is being funded by the state of Colorado through a workforce development grant issued to AGC. 
The program's original goal was a minimum of 15 registered participants, but two weeks prior to the start of the first class the program already had 90 participants signed up.
An array of marketing tactics were used to inform the public about the new training program including social media campaigns, radio station promotions, highway billboards, buses, ads in local trade magazines and even advertising at sporting events in the Denver Metro area. 
Construction Careers Now is designed to be an introduction to construction careers and an opportunity for participants to embark on a career at the end of the program. The program's curriculum includes: 
Review of various construction trades
Basic terminology
Hands-on experience with power tools and equipment on the jobsite
Expectations of employers and employees
Basic construction measurement
Safety – job hazard analysis, treating injuries, personal protective equipment, material safety data sheets, CPR and 10-hour OSHA certification
Blueprint reading
BIM introduction
Computer skills
Building techniques – concrete foundations and formwork, framing, installing doors/windows, drywall installation, electrical and specialties
Leadership and soft skills - time management, communication work ethics and more 
Plus, two full-time professional mentors/advisors are on staff to mentor and counsel each program participant through the process of employment. 
During the third week of the program participants will have the opportunity to attend a hiring fair with area construction companies who are looking to hire. This is where construction companies can get involved. 
Construction companies sponsor a booth at the hiring fairs that help fund the participants' tuition and promote the good of the industry. At the hiring fairs, contractors have the opportunity to interview potential new employees and even hire them on the spot.
Colorado's Construction Careers Now program offers other ways construction companies can get involved. For example, contractors can volunteer to present at a class as a trade expert. Currently, the program plans for one presenter a week for a 30-minute period. That's 32 opportunities for construction contractors to get in front of potential new employees. 
Construction companies can also donate supply materials needed for the classes. These are both great ways to get name and face recognition out to an interested audience. 
The first program session was held September 12 through October 6, but additional programs dates are open for registration. 
Session 2: October 10-November 7
Session 3: November 14-December 15
Session 4: January 9, 2017-February 6
Session 5: February 13, 2017-March 13
Session 6: March 20, 2017-April 24
Session 7: May 1, 2017-May 25
Session 8: June 5, 2017-June 29