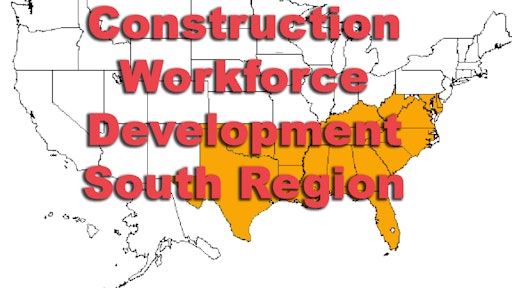 Associations, contractors, schools, unions, governments and everyone in between are making efforts in every state to develop the construction workforce and fill the shortage in the construction industry's labor pipeline.
Construction Craft Professional Demand through June 2018
Here is a sampling of programs, schools and initiatives in the South region with the goal of developing the construction workforce.
Alabama
Go Build Alabama
The Alabama initiative is aimed at educating the public about the need for skilled construction workers in the state. Like similar websites, Gobuildalabama.com has resources for people interested in joining the construction industry and educators who can share the content with students.
The site includes information about the needs of the Alabama construction industry as well as local training opportunities available. There is also information about the different trade jobs, what they entail and how much someone could potentially make in those positions.
Arkansas
Arkansas Construction Education Foundation
Started in 1993 with the purpose of helping individuals build careers and take advantage of advanced opportunities in the construction industry, the Arkansas Construction Education Foundation (ACEF) has developed apprenticeship training programs that cover all levels of the industry.
The apprenticeship training courses are designed to teach necessary skills and reinforce work ethic. Key recruits for the program include young adults, economically disadvantaged and career-displaced individuals.
ACEF is the largest craft-training organization in the state with training centers located in six cities. ACEF offers two-and four-year apprenticeship programs utilizing NCCER curriculum.
Florida
Future Builders of America
The mission of Future Builders of America (FBA) is to "engage in construction educational activities and help youth understand and pursue rewarding careers in construction." FBA helps link students with the local Florida building community through guest speakers, field trips and summer or post-graduation employment.
FBA also runs a Leadership Camp that includes construction-related classes and activities.
Academy of Construction Technologies
Founded in 1992 and open to junior and seniors in Orange, Osceola, Seminole and Volusia, Fla., school districts, the Academy of Construction Technologies trains students in construction industry-related fields.
Students learn the basic trade skills and safety practices for construction jobs. Students then get placed with a participating employer. Paid on-the-job-training and full-time employment begins during the summer between the junior and senior years.
After graduation, students continue into their second year of the adult apprenticeship program while working full-time with their sponsoring employer.
Georgia
Augusta Building Trades Council Apprenticeship Readiness Program
Targeting veterans, unemployed and underemployed adults, dislocated workers and nontraditional construction industry employees, the Augusta Building Trades Council Apprenticeship Readiness Program works to train people for union apprenticeship programs and construction careers.
The Apprenticeship Readiness Program helps people meet or exceed entry requirements for apprenticeship programs. This three-week, 120-hour multi-core curriculum program is free for those accepted into the program.
Westside Works – Atlanta
Westside Works is a partnership between multiple entities including the Construction Education Foundation of Georgia (CEFGA), Atlanta Workforce Development Agency, The Arthur M. Blank Foundation and more. The program provides job training for residents of Atlanta's Westside community and helps them obtain employment.
Through the commercial and residential construction program at Westside Works students spend four weeks in training through hands-on building and earning industry certifications. The 160-hour training program features NCCER Core Curriculum, OSHA 10-hour training, CPR/first aid certification and more.
In July 2014, the program graduated its first group of 14 students from the construction program with a second group of students graduating in August. The program plans to graduate a new group of 14 to 16 construction students every six weeks. As of August 2014, the program had a backlog of 60 students on the waiting list.
Kentucky
Kentucky Construction Career Choice Council
Kentucky Construction Career Choice Council (K4C) is a coalition of industry-related construction organizations that have come together to grow the Kentucky construction industry workforce.
K4C hosts Career Days every year where high school students get the chance to learn about careers in the construction industry. Exhibitors often show students what real jobsite work is like through engaging hands-on activities.
ABC Indiana/Kentucky Apprenticeship Program
Certified by the Federal Department of Labor Office of Apprenticeship and NCCER, the ABC Apprenticeship program is a two- to four-year program (depending on the trade) that requires participants to obtain 8,000 hours of on-the-job learning.
Training facilities are offered throughout Indiana and Kentucky. Classes either meet once a week in person and include a once-a-week online component, or they meet two nights per week without an online component.
Graduates receive their Journeyman card and are registered with the U.S. Department of Labor. ABC apprentices also receive an Associates Degree in Science Career/Tech (A.S) degree from Vincennes University.
Louisiana
Course Choice Program
High school students in Louisiana have the opportunity to customize their learning path with the state's Course Choice program. The program provides students with access to hundreds of in-person and online academic and career education courses not often available in traditional schools.
For the 2015-2016 school year there are 47 approved providers offering more than 1,000 courses.
TOPS-Tech Early Start
Through Act 737, this Louisiana program helps provide tuition for high school juniors and seniors who want to pursue an industry-based occupational or vocational education credential while still in high school.
Through the TOPS-Tech Early Start program the state pays for up to two courses per student each semester for a total of $150 per course at a Louisiana public or non-public postsecondary institution or any Louisiana Workforce Commission recognized and Board of Elementary and Secondary Education approved training provider.
Building Louisiana's Craft Workforce
The Building Louisiana's Craft Workforce plan was developed by a coalition of businesses, industry, labor unions and government organizations as a solution to the increase in construction activity and the need for more construction workers in the state.
The plan was developed in 2013 to address the immediate need for construction workers as well as the need for a framework for continued expansion of the education and training pipeline for Louisiana's construction industry.
Elements of the plan include career counselors who work with middle and high school students to make them aware of career opportunities in industrial construction; getting more state money to pay for worker training; and ensuring Pell Grants can be used to pay for community and technical college training classes.
The plan is aimed at recruiting high school students, unemployed, under-employed, veterans, ex-offenders, people from similar industries and students that have dropped out of college.
Maryland
Montgomery County Students Construction Trades Foundation, Inc.
Through Maryland's Montgomery County Students Construction Trades Foundation students have the opportunity to experience various specialized programs designed to encourage an interest in construction-related career education.
The program consists of courses in masonry, carpentry, electricity, HVAC, plumbing and principles of architecture and CAD technology. In addition, students participate in the Young American Design/Build House Project where they get to participate in the design and construction of a house.
Phelps ACE High School
According to its website, Washington D.C.'s Phelps ACE High School is the first public high school in the country to offer college preparatory and vocational education exclusively dedicated to the design professions and construction trades. It was also the first Silver LEED-certified school in Washington D.C.
Phelps ACE offers a focus on project-based curriculum supported by core academic courses. In fact, the entire building was designed as a teaching tool — walls serve as master lessons in bricklaying and exposed plumbing provides examples of best practices in construction.
The original Phelps Vocational High School closed in 2002 due to declining enrollment; however, it was able to reopen in 2008.
Academy of Construction and Design – Washington D.C.
Washington D.C.'s Academy of Construction and Design was started in 2005 to help develop the next generation of skilled industry professionals. Students who attend the Academy experience career-focused NCCER curriculum, real life design/build projects and learn life skills.
With its new partnership with IDEA Public Charter School, the Academy is open to sophomore through senior high school students. High school freshman have the opportunity to experience introductory projects and activities as well.
In addition to education, the Academy also works closely with employers to give students a chance to learn outside the classroom through internships, field training, mentoring and networking.
Mississippi
Mississippi Construction Education Foundation
The Mississippi Construction Education Foundation (MCEF) has been offering construction-related CTE programs since 1996. Students can also earn industry-recognized credentials. 
MCEF runs nearly 200 programs in over 100 career and technical centers and offers NCCER training and assessments in 11 different crafts.
The foundation provides training for four categories of students: high school CTE, apprenticeship, skills upgrade and outreach for people looking to change careers.
North Carolina
Inmate Construction Program
North Carolina has nearly 200 inmates enrolled in its Inmate Construction Program. The program allows participants to work in state-certified apprenticeships.
Inmates work toward journeyman certificates in various construction trades, and many program graduates become employed with construction companies. 
Oklahoma
Heavy Equipment College of Oklahoma
The Heavy Equipment College of Oklahoma offers three-week training courses in heavy equipment operation of wheel loaders, excavators, CDL/ready-mix trucks, bulldozers, backhoes and cranes.
In addition to field and classroom training, the programs teach students equipment maintenance, safety operations, how to read blueprints, how to evaluate soil conditions and how to apply general math principles for calculating volume and weight.
The Heavy Equipment College also has schools in Atlanta, Ga., and Stockton, Calif.
Tulsa Tech
Tulsa Tech is an independent public school district as well as Oklahoma's oldest and largest technology center in its Career Tech System. Tulsa Tech has six campuses in the Tulsa metro area that offer a wide variety of programs including architecture and construction.
Tulsa Tech is free for public, private and home-schooled high school students while adult learners pay a lost-cost tuition.
The school's yearlong Construction Academy for high school students teaches skills in construction, drafting, carpentry, electricity, HVAC and masonry. Students also learn to operate equipment, hand tools and power tools.
Tulsa Tech works with area businesses to create opportunities for student placement and work-based experience.
Francis Tuttle Technology Center
The Francis Tuttle Technology Center offers 39 career training programs for high school juniors and seniors as well as adults. The Architecture and Construction program is broken into a Carpentry/Cabinetry major and a Computer-Aided Design and Drafting major.
Tennessee
Knox County School District Craft Training Program
Tennessee's Knox County School District's two-year craft training program is offered in 10 of the district's 14 high schools and reaches nearly 2,300 students each school year. The program has recently become a NCCER Accredited Training Sponsor.
High school students in the program take NCCER Core along with three construction classes specific to their chosen craft. Thanks to an agreement with the Tennessee Department of Labor, students who graduate the program can enter into professional apprenticeships in the second year, exempting them from first-year apprenticeship.
South Carolina
American College of the Building Arts
South Carolina's American College of the Building Arts (ACBA) was licensed in 2004 to award Associate and Bachelor of Applied Sciences in Building Arts degrees. The college offers a four-year liberal arts curriculum in six craft specializations within the areas of forged architectural iron, the trowel trades and the wood trades.
At the college, trade classes are integrated with general education classes. ACBA also has an internship program that has even sent students to work abroad on castles and cathedrals.
Texas
Education Reform Legislation
In June 2013, Texas saw one of the state's largest overhauls to public education. One of the six bills signed earlier in the year was House Bill 5 which, among other things, would allow incoming high school freshmen to select one "endorsement" track to focus their studies. Endorsement categories include STEM, business and industry, public services, arts and humanities, or multidisciplinary.
House Bill 5 wasn't the only CTE bill the state passed in 2013. Senate Bill 441 created the "Texas Fast Start Program," a workforce readiness initiative aimed to prepare high school students to enter the workforce more quickly.
House Bill 2201 required the State Board of Education to approve at least six new advanced CTE courses that would satisfy a mathematics credit required for graduation.
House Bill 809 requires the Texas Workforce Commission to provide quarterly information regarding current and projected employment opportunities in Texas.
House Bill 3662 created the Texas Workforce Innovation Needs Program. This program was designed to help school districts and colleges work together to develop programs aimed at preparing students for in-demand careers in the state.
House Bill 842 allows schools to offer courses that provide CTE students with college credits while working toward an industry-recognized credential, certificate or Associate's degree.
Texasconstructioncareers.com
Like other construction job focused websites, Teaxasconstructioncareers.com is a resource for workers looking to enter the industry. The site is aimed at students, schools and military veterans.
The website offers resources including:
Craft training programs through local high schools
Educational programs for non-craft professional positions such as estimators, project managers and safety directors
A Texas construction job bank where you can search for jobs and post your resume
Information about upcoming job fairs
San Antonio Construction Careers Academy
The mission of the Construction Careers Academy is to "provide an advanced and rigorous curriculum with a focus on construction technology, construction management, architectural design, applied engineering and real-world experience that will prepare students for studies in higher education and/or a career in a construction-related industry."
High school-aged students who attend the academy are able to obtain industry-recognized certifications, participate in internships and practicums, earn college credit and gain the necessary skills to prepare them for construction careers.
Students select from one of four core strands: architectural design, construction management, applied engineering or construction technology.
Virginia
Virginia Technical Institute
Virginia Technical Institute (VTI) is open to high school students and adults interested in training in a variety of fields including carpentry, masonry, electrical, plumbing, project management and more.
VTI uses NCCER curriculum in its training, which includes core courses in safety, construction math, introduction to hand and power tools, introduction to blueprints, basic communication skills and more.
West Virginia
Construction Craft Laborers Apprenticeship Program
Adults 18 years and older with a high school diploma or GED can enroll in West Virginia's Construction Craft Laborers Apprenticeship Program.
The Construction Craft Laborers' (CCL) apprenticeship program requires 408 hours of classroom and hands-on training; however, unlike most other construction trade apprenticeship programs, the CCL program requires students to have 160 hours of training before they start on-the-job training. During initial classroom and hands-on training, apprentices are trained in basic construction skills, safety awareness and work ethics.
Apprentices in the program must attend two, four-week-long 160-hour training sessions. The first session focuses on basic construction skills and concrete practices and procedures. The second session focuses on grade/instrument reading, pipe laying and pipeline safety, mason tending and scaffold building.
In addition, apprentices in the program must acquire 4,000 hours of on-the-job training including 1,500 hours of general skills and 2,500 hours of specific skills.
Nationwide Initiatives Work to Recruit Construction Laborers
Education is Key to Recruit, Develop the New Construction Workforce
Hands-on Training Opportunities Create Interest in Construction Jobs
Apprenticeships are Still a Viable Source of Construction Workforce Development
What is Your State Doing to Develop the Construction Workforce?