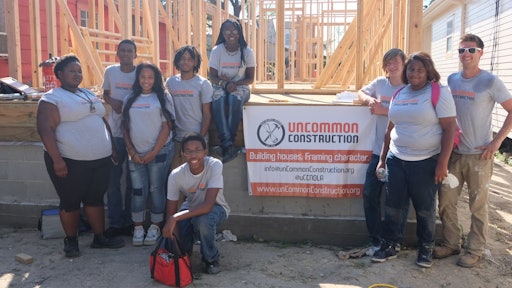 UnCommon Construction is a nonprofit in New Orleans with the goal of highlighting learning opportunities in the construction industry and empowering the city's youth. Through the nonprofit's apprenticeships, high school students from across New Orleans are earning weekly pay and school credit by learning and working on a diverse team. 
Apprenticeships are Still a Viable Source of Construction Workforce Development
New Orleans, like many other areas of the country, is facing a high demand for skilled labor. unCommon Construction is not only hoping to help fill the labor shortage, but to do so with new hires that have prior experience that has taught them to be reliable, take initiative and work well on a team — job skills that can be difficult to learn in a classroom.
Construction Craft Professional Demand through June 2018
The unCommon Construction program is a four-month apprenticeship on a residential construction site where participants help build houses. Founder Aaron Frumin says he hopes the houses they build can them be sold to help fund scholarships for the apprentices who participate in the program.
What is Your State Doing to Develop the Construction Workforce?
Participants in the unCommon Construction after school and weekend sessions work on active construction sites to gain real world experiences including both technical and "soft skills" needed for success after graduation, especially in the construction industry.
As part of the program, apprentices set a personal leadership goal and work toward achieving it on Saturday Build Days. While apprentices are in school, skilled staff and volunteers do all the prep work to make Build Days high energy and impactful events in which apprentices contribute to a full phase of construction in a single day. The after school sessions focus on leadership development, team building and further industry exposure.
Construction Industry Workforce Development Programs in the South Region
The unCommon Construction program is open to New Orleans high school students at least 16 years old.
The program started enrolling its first group of apprentices in August 2015 with the goal of completing its first house by the end of 2015. UnCommon Construction is currently building its first house in partnership with New Orleans Area Habitat for Humanity.
The nonprofit predicts that by the time an apprentice graduates from high school, he or she will have gained at least 120 hours of exposure to construction. It also predicts approximately 80% will also earn an industry-based certification through the Louisiana Department of Education's  JumpStart policy.
To learn more or contribute to unCommon Construction's current fundraising efforts, visit http://igg.me/at/uccNOLA or contact Aaron@unCommonConstruction.org.