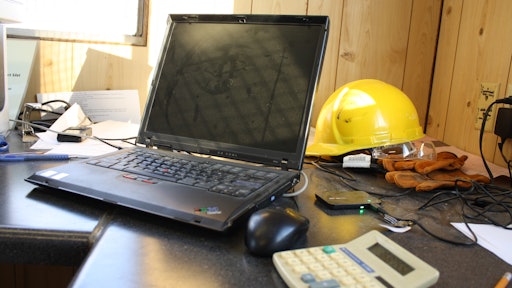 We're living in an age of technological revolution that is both inspiring and mind boggling in its scope. It's affecting nearly every aspect of our lives, and the construction environment is no exception. The equipment, systems and processes applied in the field and back office have undergone and will continue to experience dramatic shifts.
As the industry evolves, five "truths" have taken hold and will factor into your business operations and outlook for the foreseeable future:
1. Technology adoption will be essential to success.
Whether you like it or not, technology implementation is no longer an option but a necessity to effectively compete in today's business climate. In a growing number of cases, it is being driven by specific project requirements or by client demands for greater transparency between project stakeholders.
Depending on your business focus, technology implementation could take one or more of the following forms (among others):
Building Information Modeling (BIM)
Cloud computing
Project management software or other "paper-eliminating" programs
Equipment management/monitoring systems (telematics)
GPS-based (3D) equipment automation
Mobile apps for developing on-site estimates or bids, remotely tracking material location and costs, recording employee hours in real time, monitoring jobsite and equipment security, etc.
Technology may also take physical shape, such as the use of drones to track and record jobsite operations, or the use of wearables (e.g., augmented reality glasses) to improve project efficiency and/or jobsite safety.
2. Equipment is becoming increasingly complex.
Emissions regulations have necessitated sophisticated aftertreatment systems on most off-road equipment. And if pending on-road greenhouse gas (GHG) emissions legislation in the U.S. and the EU's proposed Stage V legislation are any predictor, more is yet to come. Such systems add both cost and complexity to equipment design and have substantially affected equipment owning and operating costs.
The complexity of modern powertrains and the electronics that control them have made telematics a necessity to the point that many OEMs now offer systems as standard on mid-sized and larger models (where the cost is more readily justified). As a result, fleet managers and service technicians have spent the past few years scrambling not only to keep up with the changing designs and related service needs, but the systems required to digitally monitor and manage equipment operation and maintenance.
Of course, with the downsides, there have been positive gains from emissions regulations, as well. In addition to environmental benefits, the electronics needed to ensure diesels achieve regulatory compliance have enabled enhanced controllability and integration of various systems within machines, facilitating expanded functionality and the ability to tailor operating parameters to both the task and the operator. More features mean today's operators require further training, however, to ensure they utilize these abilities to optimum advantage for faster ROI, and to minimize the risk of damage to sensitive, and costly to repair, internal systems/components.
3. Jobsites will become more mechanized.
The shortage of qualified labor is an ongoing dilemma that will only worsen as the construction industry gains further traction. Mechanization of certain tasks is one means to address a percentage of the labor shortfall.
As labor costs steadily rise, the use of equipment in place of hand labor becomes practical even for smaller construction firms with limited financial resources. Rental has become an increasingly acceptable means in the U.S. to access that equipment at a reasonable, and predictable, price without the need for a long-term commitment. In addition, there is a broader range of equipment types on the market, many of which are designed for multiple applications and/or attachment flexibility and offer the potential to reduce the number of workers and/or machines required on site.
Much as in manufacturing, robotics are sure to emerge on construction projects as a replacement for hand labor in certain repetitive tasks. While many high-tech devices achieving viral status on social media sites will never see light of day on an actual jobsite, others – such as 3D printing of materials or structures – have more serious potential for real-world application.
4. Efficient data management is crucial.
"Big data" is a buzzword garnering attention, and dollars, in various industry management circles, and construction is quickly headed down the same path. Telematics have made real-time data capture a reality for equipment fleets, and cloud computing has enabled broader storage capability and ready access by multiple parties to the reams of data generated.
The challenge is how to sift through this data to identify pertinent information and interpret it into what's meaningful for your business. Equipment manufacturers and their dealer networks are willing to assume that responsibility, but typically at a cost. This has led some forward-thinking construction firms to create new roles within their organizations centered specifically on data management. These "data experts" are tasked with analyzing the broad influx of data to identify trends and actionable items and convey that information to the appropriate personnel in the field.
5. Education and training are musts to stay in the game.
Education on the changes taking place in the industry and within your own organization is essential. Stay abreast of the tools and technologies out there and conduct research to determine what makes the most sense for your operations. Learn lessons from the early adopters. Be proactive when it comes to educating yourself and your staff both before and after adoption. Once implemented, proper training is vital to minimize the risk of failure, under-utilization or under-performance.
The days of paper forms and spreadsheets, "grease monkey" service technicians and "dumb" machines are long gone. It's time to seriously investigate those tools and technologies that can enhance your business efficiency and profitability, or you risk lagging behind in an environment where it will only prove increasingly difficult to catch up.