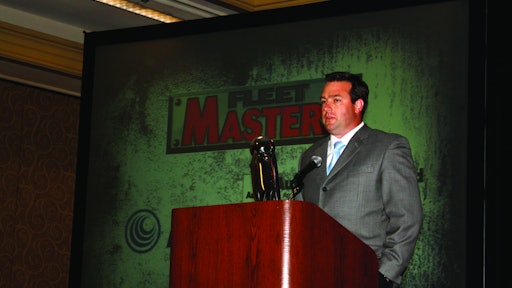 GLENWOOD SPRINGS, CO. - AEMP (Association of Equipment Management Professionals), the premier organization for asset management professionals of off-road fleets, recently awarded two industry professionals with the 8th annual Fleet Masters Award. The winners were recognized at AEMP's 29th annual Spring Management Conference in Las Vegas. Fleet professionals Mike Munson of Austin Bridge and Road, Irving, TX, and Guy Gordon, CEM of Insituform Technologies, St. Louis, MO were the 2011 award recipients.
The Fleet Master Award recognizes equipment professionals who demonstrate excellence in meeting the unique challenges inherent to delivering cost-effective and cutting-edge management of mixed fleets of on-road and off-road equipment. Past award winners have included representatives from both private and public fleets.
Award recipient Mike Munson holds the position of Equipment Director at Austin Bridge and Road. The company, a division of Austin Industries, is focused on transportation infrastructure, and has completed more than $2 billion in heavy civil projects over the past five years.
Munson and his team manage more than 800 pieces of equipment. To aid in effective fleet management, Munson says he relies heavily on telematics, and has also implemented GPS tracking on nearly 700 pieces of equipment. He says winning the award was completely unexpected, yet he's proud and grateful, as he feels it is a testament to the hard work and dedication put forth by his entire team.
"To accept this award on behalf of my team is such a great honor," Munson said. "Years of effort was put forth by so many to get us where we are today, from our focus on AEMP's 17 core competencies to the implementation of the Austin Way Initiative."
As a company, ARB has implemented policies and programs to aid in efficiency, safety and continuing education, known collectively as the Austin Way Initiative. Munson operates his fleet based on the Austin Way Equipment Manual, a detailed handbook unique to ABR. The 500-page manual is written to ensure both financial viability of the fleet and efficiency in customer support, and also aids in accurately measuring results of Munson's efforts. Furthermore, ARB has developed Austin University to provide both managers and staff with a sound training path, complete with online and classroom instruction.
Guy Gordon, CEM and 2011 Fleet Masters Award winner, leads the equipment management team at Insituform Techologies, Inc., a highly specialized, international construction company. The fleet consists of 1,800 licensed vehicles and 110 off-road units, with many purpose-designed and built machines, and components.
As director of asset management, Gordon oversees a team of about 45, including two CEMs (Certified Equipment Managers). Under his leadership, the equipment group has provided continued improvement in the areas of equipment quality, safety, productivity and cost. Gordon is honored to receive the Fleet Masters Award, and proud to be recognized for the hard work and impressive results achieved by his entire team.
"Our efforts have resulted in very notable improvements over the past four years, including a 42 percent decline in operation costs, a decline of fleet average-age, and increases in both uptime and PM compliance," Gordon said. "We're extremely proud of these achievements. And I'm incredibly honored by this recognition, as it represents the work of our entire group."
The company has also developed a formalized environmental policy, and the equipment group focuses on continually improving equipment design and specifications to reduce environmental impact. Equipment that meets ITI's environmental standards are identified as "ITI Green" and include all off-road units with Tier 4 engines and on-road diesels that meet 2010 emissions requirements.
Technician of the Year Recipients
The AEMP also recognized two industry professionals with the annual National Technician of the Year award. The honor has been awarded by AEMP since 1989, and recognizes technicians in both the private and public sectors. This year's private sector winner was Tom Hellmers from Murphy Tractors and Equipment, Omaha, NE, while Ron Bradly of Sarasota County Fleet Services Department, Sarasota, FL, took home the public sector award.
Presented through the AEMP Foundation, the National Technician of the Year award is given in recognition of clearly demonstrated professionalism, technical skills, innovative trouble-shooting and diagnostic capabilities, as well as exceptional contributions made to the equipment technician profession. While the award is intended to positively impact the career of its recipients, the ultimate goal is to advance and bring awareness to the technician vocation.
Private sector winner Tom Hellmers is a 48-year veteran of the industry, boasting several professional certifications and achievements. His skill and intuitive nature with technology from several makes, models and lines of equipment has earned him certificates through many different OEMs. In total, he holds more than 60 certificates, ranging in achievement from Electrical Diagnostics to Hydraulic Systems. He has also proven himself as a highly innovative technician, having designed and built tools to improve repair processes on several occasions.
Over the past few decades, Hellmers has developed excellent customer relations with State, County, City and private fleet managers. Through these relationships, he has created strong customer loyalty to Murphy Tractor, and widespread recognition of his reputation as an excellent technician and individual.
"As a service manager, I feel Tom is the example of what an ideal technician should be," Murphy Tractor Service Manager Robert Swangel said. "Beyond skill, his reputation with customers proves his value. In fact, customers will call and request him specifically, and wait until he's available to do the repairs. That really says a lot about his quality of work and rapport."
The 2011 public sector Technician of the Year Award recipient, Ron Bradly, has been with Sarasota Fleet Services for more than 30 years. His position, Heavy Truck/Equipment Technician II is among the most desired positions in the industry and representative of only the most elite technicians. Additionally, Bradly currently holds two EVT certificates and six Master Mechanic ASE certificates, an impressive honor that very few technicians in the world can claim.
Bradly is dedicated to continuing education and higher learning, and sharing his passion with co-workers and next-generation technicians through his time spent training and guiding others. Further demonstrating his commitment to education, he recently developed and presented an introductory learning course as a joint venture with the Sarasota Vocational Institute. The course, titled "Introduction to Automotive Systems", was made available for Venice, FL High School students.
Sarasota County Fleet Services Department Fleet Manager and CEM, Greg Morris, says Bradly sets the example for other technicians to follow and is always raising the bar in an effort to advance the profession.
"In my 30 years of experience, Ron's technical abilities are the best I've ever seen," he said. "He's incredibly dedicated to the profession. More than just excelling in his own career, he really makes it his mission to help others achieve that same level of success. To me, skill and passion both encompass what the Technician of the Year award is all about, and there is no one more deserving than Ron."
In addition to the prestige and recognition, Technician of the Year winners receive an award plaque, personalized jacket, $500 continuing education scholarship and a custom, full-sized John Deere tool cabinet.
About AEMP
Formed in 1980, the Association of Equipment Management Professionals represents fleet professionals working in construction, government, utilities, energy, mining and more. AEMP maintains relationships among manufacturers, users, governmental agencies, educational institutions and others involved in the design and management of heavy equipment.
AEMP created the term "Equipment Triangle". It is the cornerstone of the association's philosophy that a balanced relationship must exist between the End User, Distributor, and OEM/Supplier in the life cycle of a piece of heavy equipment or product. AEMP advances this philosophy through its education and certification programs. For more information, visit www.aemp.org.