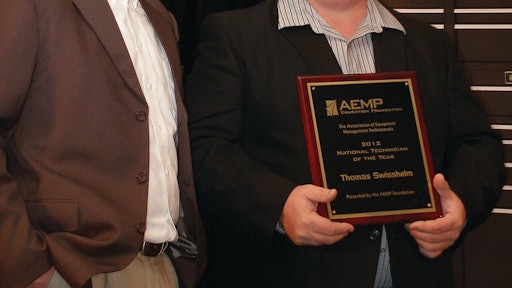 The Association of Equipment Management Professionals (AEMP) Foundation executes its mission of fostering education and growth in the heavy equipment industry in part by holding an annual competition to identify and honor the best technicians in the industry. At AEMP's 30th Annual Management Conference, the association named Tom Swisshelm of Kokosing Construction as its private-industry Technician of the Year, and Master Sergeant Jeremy Parks Sr. of the U.S. Air Force as Technician of the Year from a government agency.
Swisshelm is a 12-year veteran of Ohio-based Kokosing. As an asphalt-equipment service technician, he's distinguished himself with several innovations to improve the safety of workers around various machines, including adding emergency-off switches to tar kettles to reduce burn injuries. He's also built productivity innovations, such as a continuous mat-temperature-measuring device.
Parks is a 14-year combat veteran, traveling more than 100,000 miles on the world's most dangerous roads in more than 600 convoys. He has become an essential equipment-fleet troubleshooter to the Air Force's 18 facilities in Europe and Africa.
Established in 1989, the Technician of the Year Award advances the vocation and positively impacts the career growth of those who win. The award, sponsored by John Deere, is presented in recognition of professionalism, technical skills, innovative troubleshooting and diagnostics, and for exemplary contributions to the equipment technician profession.