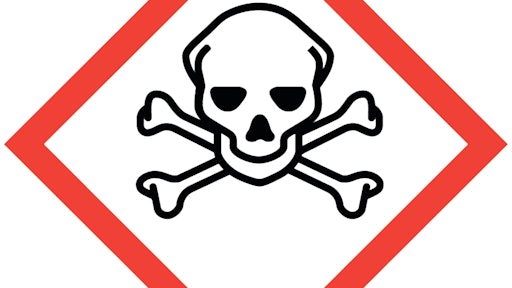 To better protect workers from hazardous chemicals, the U.S. Department of Labor's Occupational Safety and Health Administration (OSHA) revised its Hazard Communication Standard, aligning it with the United Nations' global chemical labeling system. The new standard, once implemented, will prevent an estimated 585 injuries and illnesses, avert an estimated 43 deaths, and result in an estimated $475.2 million in enhanced productivity for U.S. businesses each year.
The Hazard Communication Standard, being revised to align with the United Nations' Globally Harmonized System of Classification and Labeling of Chemicals, will be fully implemented in 2016 and benefit workers by reducing confusion about chemical hazards in the workplace, facilitating safety training and improving understanding of hazards, especially for low literacy workers. OSHA's standard will classify chemicals according to their health and physical hazards and establish consistent labels and safety data sheets for all chemicals made in the United States and imported from abroad.
What you need to do and when
Chemical users: Continue to update safety data sheets when new ones become available, provide training on the new label elements and update hazard communication programs if new hazards are identified.
Chemical Producers: Review hazard information for all chemicals produced or imported, classify chemicals according to the new classification criteria, and update labels and safety data sheets.
Effective Completion Date
Requirement(s)
Who
December 1, 2013
Train employees on the new label elements and Safety Data Sheet (SDS) format.
Employers
June 1, 2015*
Comply with all modified provisions of this final rule, except:
Distributors may ship products labeled by manufacturers under the old system until December 1, 2015.
Chemical manufacturers, importers, distributors and employers
June 1, 2016
Update alternative workplace labeling and hazard communication program as necessary, and provide additional employee training for newly identified physical or health hazards.
Employers
Transition Period
Comply with either 29 CFR 1910.1200, or the current standard, or both.
All chemical manufacturers, importers, distributors and employers
Find more information and safety training resources at http://www.osha.gov/dsg/hazcom/
Information from OSHA