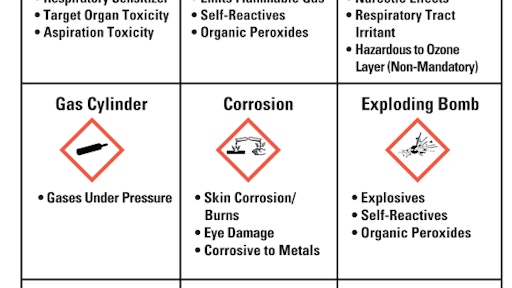 The U.S. Department of Labor's Occupational Safety and Health Administration (OSHA) revised its Hazard Communication Standard to align with the United Nations' Globally Harmonized System of Classification and Labelling of Chemicals (GHS). By December 1, 2013, all employers with hazardous chemicals in the workplace must conduct new training for workers on the new label elements and safety data sheets format to facilitate recognition and understanding.
As part of its Alliance with OSHA, the Society of Chemical Hazard Communication will host a free webinar from 1:30 – 2:30 p.m. EST on Thursday, July 25, 2013, on Hazard Communication Standard compliance. The webinar will focus on classification, labeling, safety data sheets, and training, as well as how manufacturers, importers, distributors, and employers can meet the compliance requirements during the transition period. Register by July 24 to participate.
OSHA has prepared a number of materials to assist employers in complying with the new updates. The Hazard Communication Web page explains the changes and contains a number of materials including: a new fact sheet that reviews the new training requirements, new QuickCards that review the new pictogram label requirements, and a brief on labels and pictograms.