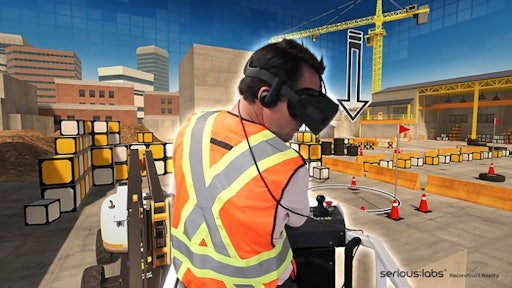 The advent of virtual reality (VR) simulators in mobile elevating work platform (MEWP) training, and the recording and prevention of related accidents, were chief topics covered at the International Powered Access Federation's (IPAF) first-ever CatchUp session, held in San Diego in the lead-up to this week's Access, Lift & Handlers (ALH) Conference & Awards program.
Diego Bustamante, IPAF Mexico and South US representative, spoke to a room full of powered access industry stakeholders who were gathered on September 11 for an update and summary of initiatives that are top priorities to the organization.
Bustamante presented findings from IPAF's MEWP Accident Reporting Project, noting that 74 fatalities have occurred this year on work sites where MEWPs were in use. While generally accepted as the safest means of working at height, industry is seeking and employing safer and more realistic training methods to ensure fewer injuries and fatalities related to powered access equipment.
Virtual reality (VR) simulators have been gaining momentum over the past few years as a safer and more effective alternative to traditional training methods, helping individual MEWP operators learn safe handling practices while assisting managers to better understand how prepared each individual actually is to perform their work.
Real Future for Virtual Reality in Aerial-Lift Safety
How VR simulators fit into current training programs
IPAF Director of Operations Giles Councell told CatchUp attendees that operators currently can't be trained entirely on VR simulators, but the technology does offer assistance in four key areas:
operators can gain advanced training, building on what they already know;
the licensing renewal process can be streamlined;
operator skills can be quickly and easily verified;
and prior knowledge can be tested. 
With accurately simulated work sites, operators can be tested or trained indoors without using equipment or valuable real estate for testing purposes. Most importantly, they are not at risk during the training process.
Meanwhile, sensors within the VR apparatus generate data about the user's behavior and movements, including the direction in which the operator is looking while performing the simulated task. This combined data helps create a better picture of his or her skills and potential gaps in the operator's training. 
Virtual Reality Simulators Enhance Equipment Operator Training
VR solution for MEWPs
Edmonton-based VR technology developer Serious Labs tailors its immersive experiences to specific kinds of machinery and training objectives. In the MEWP space, the company has created 32 different scenarios, comprising three hours of practical training.
Simulating real-world jobsites, these scenarios also provide feedback through motion sensors that help assess operators with an accurate scoring system, and an evaluation that is set up against an experienced performance baseline. Using this system, operators can be measured objectively and assigned to tasks according to their current abilities.
Not only does this solution provide operators with the knowledge and direction to further their training and improve overall safety, but it also contributes to the efficiency of the workforce.
Serious Labs Teams with IPAF on VR for Powered Access Licensing Training