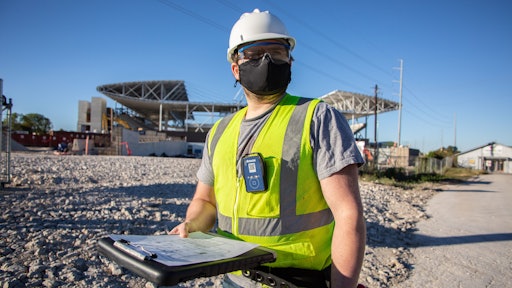 BlueCats
As the coronavirus (COVID-19) pandemic took hold in 2020, it was reported that an additional 50% of the American workforce transitioned to working from home to enforce social distancing. However, the construction industry, deemed to be an essential service, saw sites stay open and projects advance, even as the pandemic raged. Yet in spite of this, not even the construction industry has gone unscathed, with contractions in real growth in 2020 and a slow recovery to positive growth territory in 2021.
There are challenges ahead to future growth, including schedules, cost blow-outs and, of course, labor availability as caution concerning social distancing remains high. On top of these are new operational measures that will see both engineering and administrative controls implemented to reduce the risk of a local coronavirus outbreak that could shut down an entire jobsite.
Even after a full vaccine rollout, it will still be important to monitor and track cases to prevent future lockdowns. When workers are deemed "essential," they can't stop working. As a result, the responsibility falls to operations personnel and lead contractors to keep their teams safe.
New jobsite-level insights are key to understanding who is on a jobsite and – should a team member or a colleague be infected with COVID-19 – someone must conduct contact tracing to track down everyone who interacted or came into close contact with that person. Anyone who falls into this category can test, isolate and receive treatment without shutting down an entire jobsite.
Traditionally, contact tracing involved bringing in an outside entity such as a health department, a time-consuming task. Now, technology makes it more reliable, affordable and faster, all while keeping an employee's personal information private.
Vaccine is a Positive Step But More is Needed
The vaccine is a positive development in the fight against COVID-19, but polling and anecdotal evidence suggest organizations can't rely on the belief that everyone will want to or be able to receive a vaccine. In addition, receiving the vaccine is not a guarantee that they will not contract or transmit the virus.
Consider recent polling from Morning Consult of thousands of U.S. employees which revealed less than six in 10 (56%) employed adults said they would get a vaccine. The rate of workers willing to receive the vaccine ranged from less than half (47%) in the food and beverage industry to more than three-quarters (77%) in higher education. The same poll found 53% of construction workers planned to receive the vaccine, which is less than the overall average for employed adults.
According to ProBuilder, the Equal Employment Opportunity Commission ruled "employers could require workers to get the vaccine, with certain exceptions." But even companies that take advantage of that ruling and require vaccinations for employees will likely have someone on their team who cannot receive the vaccine for varied reasons, including health concerns and religious objections.
These facts show employers must take additional action by considering a contact tracing system to track positive COVID-19 individuals in a workplace or a jobsite.
Path Forward Requires Attainable Solutions
A year into the pandemic, it is clear the world will not stay in quarantine forever. Workplaces, especially jobsites, will play a central role in stopping the virus' spread and helping the world return to "a sense of normalcy."
Technology will help companies overcome the pandemic's devastating effects, and it is critical to organizational success amid new business realities. Today, several offerings on the market allow organizations to quickly roll out a solution to track team members who may have been exposed to COVID-19.
For example, BlueCats' Contact Tracing Solution (CTS) uses individual Ultra-Wideband (UWB) wearable devices called SafetyTags to allow closed shop organizations such as construction companies to streamline the process, making it reliable and affordable. It enables businesses to work productively through COVID-19, as employers work to create a safe workplace for vaccinated and unvaccinated employees and visitors.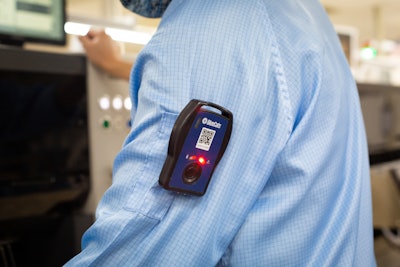 The Centers for Disease Control and Prevention recommends that construction employees "inform employees of their possible exposure to COVID-19 in the workplace but maintain confidentiality". Furthermore, it states that "workers with close contact (within 6 ft. for a cumulative total of 15 minutes or more over a 24-hour period) to a person with COVID-19 should quarantine for 14 days after last exposure".
While the need for contact tracing is urgent and most impactful during a pandemic, solutions such as BlueCats' UWB-based wearables provide additional value for asset and personnel tracking, man-down and time on a tool.
Restoring Confidence on Site
Based on the advice of the country's leading health experts, it seems likely COVID-19 will be with the world for the foreseeable future, even if its influence is reduced, so organizations should prepare. Uncertainty still lingers, and precisely how the pandemic will unfold remains to be seen.
To offset these headwinds, construction organizations need solutions that are easy to use and reliable. They must allay any fears workers have so they are confident in returning to jobsites and can focus on helping businesses meet their objectives, rather than concerns about their job jeopardizing their personal health.
While contact tracing does require a capital expense and some operational changes, it can save companies from aggravation surrounding a potential virus outbreak on the jobsite and help them complete projects on time and on budget.
Nate Dunn is CEO at BlueCats.
More stories about construction contact tracing solutions: