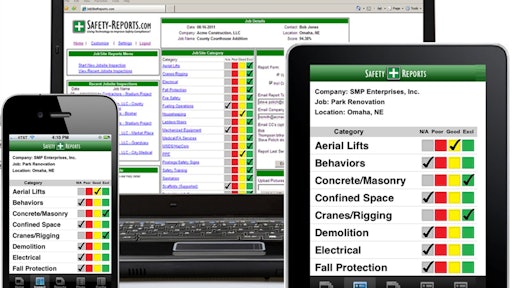 Mobile app: Safety-Reports
Developer: iNet Solutions Group
Cost: Free for existing Safety-Reports.com customers
Available on: Apple and Android devices
Designed for safety consultants, safety directors, safety managers and supervisors, the Safety-Reports web-based inspection management system allows users to take safety compliance audits to the next level.
The app's checklists are compliance driven and reference applicable OSHA standards for construction and general industry. MSHA, CalOSHA and FMCSA/DOT checklists will also be available. In addition to coming with the standard OSHA checklists, users can also upload company-specific customized checklists making the app customizable for the user.
The app automatically generates professional looking reports that include a cover letter, photos, comments and recommendations.
The app also features a built-in points-based system that allows the user to compare "safety scores" from one project to another or from one job crew leader to another. "The points-based system is also used by some contractors to distribute safety bonuses to their PM's, superintendents and foremen based on how well they score (i.e. per site visit, per project duration, per quarter, etc.)," says Steve Polich of Safety-Reports.com.
According to Polich, the top three benefits of using this app include:
Inspection data is delivered in real-time allowing owners to respond more quickly when hazards are identified.
Inspection frequency increases, which acts as an insurance policy to protect against costly OSHA citations and penalties.
Electronic "Corrective Action Tracking" feature provides a hassle-free method to ensure hazards are corrected in a timely manner.
App features:
Simple interface that includes inspection items most commonly cited by OSHA
Works in remote locations where Wi-Fi or cellular connections are not available
Access inspection data for trending and analysis to identify areas where compliance is lacking
Analytical reports allow user to filter data to help drill down where the issues are occurring
Data is scored as a "percent positive"
Can be a tool for administering Safety Recognition Programs
Corrective Action Tracking allows users to follow all open items through to  completion