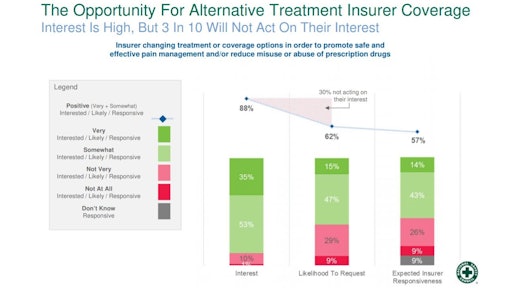 National Safety Council
The Travelers Companies reported today an almost 40% reduction in the use of opioids among the injured construction workers it has helped, thanks to a combination of its Early Severity Predictor model and its comprehensive pharmacy management program.
The Early Severity Predictor is Travelers' proprietary predictive model that helps forecast which injured employees are at higher risk of developing chronic pain, while the pharmacy management program monitors drug interactions, excessive dosing and abuse patterns to reduce the risk of opioid dependency.
Strains, sprains, broken bones and head traumas are among the most common employee injuries on construction sites. All of these can lead to chronic pain, a condition that is often treated with highly addictive opioids. In fact, roughly half of all workers compensation claims related to the construction industry that are submitted to Travelers involve opioid prescriptions.
"The opioid epidemic is having a profound effect on our society, and the crisis is especially concerning for the construction industry, where the work can be physically demanding," said Rick Keegan, president of Travelers' Construction group. "Identifying safe and effective alternatives to treat injuries and prevent chronic pain will help injured employees avoid the risks associated with opioids while helping our customers better manage the related medical costs."
Travelers' nurses and claim professionals work closely with at-risk injured employees identified by the Early Severity Predictor model, and their physicians, to develop an aggressive, sports-medicine-like treatment regimen, which often includes physical therapy and other interventions to prevent acute pain from becoming chronic. This approach is particularly significant for the construction industry, where Travelers claim data show that injured workers who suffer from chronic pain can be out of work for as much as 50% longer than those in other industries.
"We are committed to using our deep domain expertise, and our industry-leading data and analytics, to help address the causes of chronic pain," said Rich Ives, vice president of workers compensation claim at Travelers. "We're finding new ways to curb prescription opioid abuse while getting injured workers the care they need to return to work as soon as is medically appropriate."
Visit the Travelers Insights & Expertise website for more information on preventing chronic pain and opioid abuse in the workplace. For more information about construction products and services from Travelers, please visit travelers.com.
The Travelers Companies Inc. is a provider of property casualty insurance for auto, home and business. A component of the Dow Jones Industrial Average, Travelers has approximately 30,000 employees and generated revenues of approximately $30 billion in 2018.
More Resources