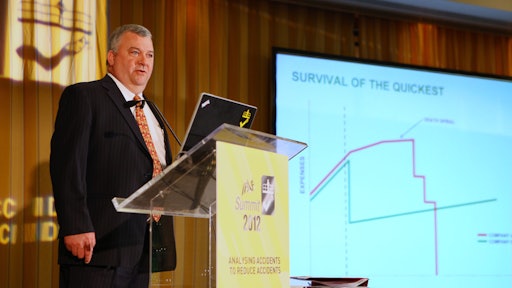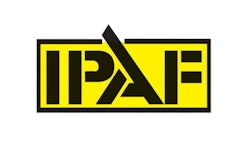 Andy Studdert, CEO of NES Rentals, one of the top five U.S. rental companies, has been co-opted as a director on the board of the International Powered Access Federation (IPAF). This was announced at the IPAF Annual General Meeting (AGM) held on March 29, 2012 in Rome, Italy.
NES focuses primarily on aerial rentals, with 1,100 employees across 28 U.S. states. Andy Studdert has been the CEO of NES Rentals for the past eight years. Prior to this, he was the COO of United Airlines from 1999 to 2002, where he led the company to the highest ratings in its history for on-time performance and customer service, completed its largest cost-reduction efforts, and guided the airline through the 9/11 crisis. He also served previously as head of fleet operations (1997-1999) and chief information officer (1995-1997) at United Airlines. Prior to joining United, he was a consultant and a banker.
At the IPAF Summit following the AGM, Andy Studdert delivered the keynote address, calling on the aerial platform industry to adopt a more stringent safety culture similar to that of aviation. Drawing on his extensive experience in the airline sector, Studdert said that one of the critical lessons that the access industry could take from aviation is the reliance on standard, repeatable processes. Just as any first officer doing a walk-round inspection of a plane before each flight follows a standard operating procedure, so should an aerial work platform operator have a repeatable process for pre-use inspections before using the equipment.
Another critical lesson is to have a culture of intervention, which means that any member of staff, from delivery driver to maintenance mechanic, is able to stop a machine being used if he or she identifies a safety concern. A final lesson is crisis preparation, with staff knowing exactly what to do in the event of an emergency.
Studdert recalled how he instigated these safety processes when he joined NES. Following an incident in 2004 when an aerial platform hit a bridge while being transported, he halted all operations for two days and called all staff to an emergency meeting. Studdert told his staff that he was "tired of being lucky." 
NES has since adopted a new safety culture that focuses on stringent equipment inspections and maintenance, and that is backed up by repeatable processes as documented in an environmental, health and safety audit checklist and a crisis communication plan.
Asked if a safety culture can bring tangible benefits, Studdert said that NES has not had a major incident in seven-and-a-half years, and that its insurance premiums were down by 75%.
Next year's IPAF Summit will head to the U.S. for the first time. It will take place on March 26, 2013 in Miami, FL. More event details will be at www.iapa-summit.info
Companies in this article