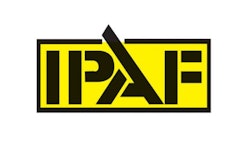 Teresa Kee, director, environmental, health and safety at NES Rentals, was elected chairperson of the IPAF North American Regional Council at the council's meeting on August 20, 2013.
Jim Dorris, vice president, health, safety, environment & sustainability at United Rentals, was elected vice chairperson.
"IPAF is strengthening its value as a members' organization," said Teresa Kee. "I look forward to working closely with the IPAF staff and the members of IPAF's North American Regional Council to provide our members and prospective members with sound reasons to join the global movement for aerial lift safety. We will build on the interest and enthusiasm generated at the IPAF Summit in Miami, as well as foster a broader rollout of the AWPT operator training program eLearning module in English and Spanish."
Teresa Kee takes over from outgoing chairman Kevin O'Shea, who has completed his term. IPAF expresses its appreciation to Kevin O'Shea for his tireless efforts to promote IPAF's mission and its growth as an association in the North American market.
The North American Regional Council allows US and Canadian members to meet and address issues and topics that impact their regional market and gives them a voice internationally at the IPAF Council. Those interested in participating should contact Tony Groat, IPAF's North American representative, on [email protected]
Companies in this article