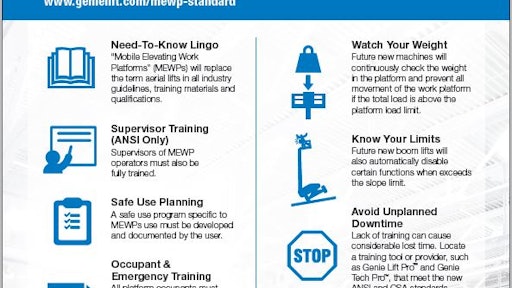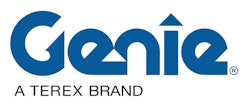 Terex Aerial Work Platforms (AWP) is participating in OSHA's National Fall Prevention Stand-Down, May 2-6, by offering free Genie marketing safety kits to support safety awareness and training initiatives in the aerial access industry. The kits help employers talk directly to employees about safety, focusing on forthcoming changes in ANSI and CSA compliance and reinforcing the importance of standardized operator, inspection and maintenance training.
The purpose of the National Fall Prevention Stand-Down is to raise awareness of work at height best practices in construction applications. According to OSHA, fatalities caused by falls from elevation continue to be a leading cause of death for construction workers, accounting for 337 of the 874 construction fatalities recorded in 2014 (BLS preliminary data). Fall prevention safety standards were among the top 10 most frequently cited OSHA standards, during the 2014 fiscal year.
"The No. 1 priority on any aerial jobsite should be to promote a safe workplace for both the operators and the people around them," said Karen Stash, Genie Senior Director of Global Product Management and Marketing, Terex AWP. "One of the biggest challenges in the aerial industry is increasing awareness about why safety is so important, especially as the standards change.
"We are pleased to offer these safety kits to support our rental customers' safety and training initiatives," she added. "The materials in these kits are designed to build awareness of operating Genie equipment while helping our customers gain a better understanding of the variety of convenient training tools that are available to maximize productivity on Genie equipment."
Included in the kits are several informational pieces, such as "10 Safe Operating Tips for Telehandlers" poster, as well as a poster and an article on the changes coming in 2017 to the ANSI and CSA standards. These upcoming changes to the standards will significantly update industry responsibilities for safe use and training to align more with international standards (ISO), and the pieces in these safety kits will help rental store owners better prepare for the changes.
The safety kits also contain tools to help employers and employees comply with industry standards for training and safe use of aerial equipment, including Genie Lift Pro training cards — five for AWPs and five for telehandlers — with five additional enrollment codes for free online operating training and a Genie Tech Pro online training card for inspection and maintenance. An, the kit contains elements that employers can use year-round to remind employees of their commitment to safety: Genie Lift Pro window clings, Genie operator protective accessories brochures, product catalogs and Genie 50th Anniversary hard hat stickers.
"Not only is safety at the core of the Genie culture, we also want to elevate our customers' safety awareness about the proper use of aerial equipment on the jobsite," said Stash. "To continue to spread the safety message, we developed these safety kits to go directly onto aerial jobsites and be used in the field, helping our rental customers emphasize to their customers the different ways aerials and telehandlers can be operated in a more mindful and safe manner."
The free Genie safety kits are available to the first 200 requests. Please email AWP.Marketing@terex.com with your name, phone and mailing address.