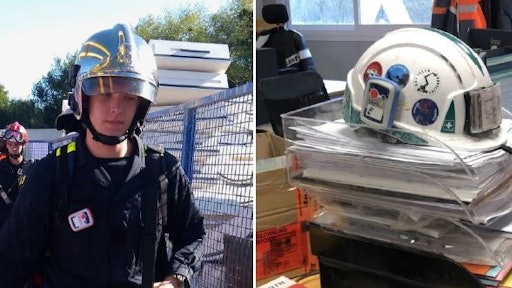 Paris Metro is tracking the security of hundreds of construction workers in tunnels as it expands its underground rail line. The current 7-kilometer (4.3-mile) tunnel project launched in May 2018, with another beginning in March of 2019.
The safety system that accompanies the construction project consists of ultra-wide-band radio frequency ID sensors worn by personnel, which are read by a network of receivers, as well as sensors mounted throughout the tunnel for emergency reporting. The technology comes from Litum IoT.
The Project
The Grand Paris Express project, first launched in 2013, is overseen by public enterprise Société du Grand Paris and consists of multiple new rapid-transit lines in the Paris region. The latest extension consists of approximately seven miles of tunnels, requires about 400 workers and relies on equipment such as a tunnel boring machine (TBM).
The organization sought a system that would ensure worker safety throughout the multi-year project. The project had to meet strict safety regulations to ensure only authorized workers were in restricted areas, and to tracking in real time the locations and activities of workers to ensure they followed directions and avoided unsafe behavior. The group also needed to minimize risk of collision between employees and the TBM and other equipment moving on rails.
Main Drivers of the Project
Providing access control for authorized staff to the tunnel construction area, and enforcing special rules for visitors.
Providing real-time location over the length of the tunnel and precise staff roll-call in specified zones (TBM, shafts, tunnel sections, etc.).
Preventing collisions between construction equipment and workers in the tunnel.
Creating automated and location-aware alerts from underground workers in case of an emergency situation (fire, gas detection, etc.) or an evacuation.
Monitoring safety rules, such as the maximum number of employees allowed to work at a job site.
Providing a simple device employees in distress can use to call for help.
Preventing unauthorized entries to forbidden areas and logging movements.
Ensure regulatory compliance.
Litum's Solution
Litum delivered a workplace safety system based on real-time location tracking system (RTLS). Ultra-wide-band (UWB) RFID technology utilizes RTLS tags (transmitters) and anchors (receivers) that operate on a mesh network structure.
The location of each tag is precisely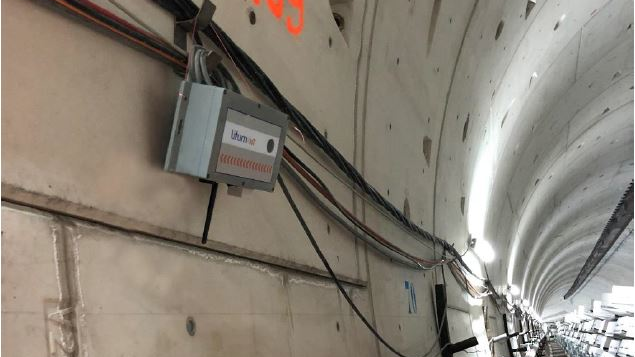 Router installed in the tunnel. calculated by Litum's positioning technology in sub-meter location accuracy. The platform offers powerful software where all business rules are defined, zone control and alert management functions are managed.
Anchors and tags operate in challenging areas without any limitation of quantity and the system is designed to operate both indoors and outdoors.
Equipped with motion sensors and emergency buttons, Litum's RTLS tags are mounted on the worker helmets. They offer the wearer a distress-call button, and raise automated alerts in case of prolonged inactivity.
The alert feature of Litum RTLS system works two ways and it allows for alerting the workers from the management center if a risk is detected.
Litum also provided stationary emergency buttons that are installed in the tunnels every 200 meters, adding an additional safety mechanism.
Features of the System
Real time location of employees with sub-meter accuracy.
Automated employee identity validation as they enter work areas.
Reporting total number of employees present in a tunnel, shaft, and TBM machines at any given time.
Generating employee lists for each zone and displaying them on LED screens installed at the entry of each tunnel in the event of an accident.
As only a limited number of employees (20) are anticipated in survival containers, the system makes sure that this limit is not exceeded. Automated alerts are sent to the excessive employees and to the management.
The system monitors visitors who are present in the tunnel and creates alerts when the maximum number (4) visitors allowed is exceeded.
Monitoring the distance between visitors and their custodians; raising alerts if they separate more than 30 meters.
Monitoring proximity between drilling equipment and employees, alerting the workers if the distance gets under 100 meters.
The system has numerous reports and dashboards to visualize gathered data from location trackers:
Executive dashboard, which provides easy interpretation and access to key data.
Number of tags, alarms, sensors, battery levels, idle tags, etc.
Heat maps and activity log for each tag.
Additional features
Besides its main function of safety, the system has been designed to provide "lighting control" to support energy savings. It can adjust the light level of a zone (tunnel segment) with respect to total number of detected employees. The system is set-up to automatically raise the light level as workers move from one segment to another.
Benefits of safety tracking
Paris Metro has used the system for firefighting exercises since it was installed. The technology proved useful during those exercises, managers follow the progress of their staff from the control room. The system sends automated e-mail alerts to personnel and managers related to maintenance requirements or other factors. E-mails are used rather than SMS text messages, since a Wi-Fi signal is available in the tunnel, but no GSM cellular.
Main benefits:
Reduction in the number of accidents and collisions
Improved initial response rate and efficiency in cases of emergency
Improved visitor safety and security
Clear visibility of the underground workforce
Enforcement of regulatory guidelines
Energy savings