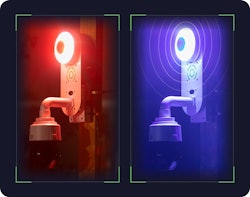 TrueLook

TrueLook Construction Cameras, a provider of jobsite security solutions, has announced the launch of its latest product offering: strobes and sirens. Strobes and sirens integrate with TrueLook's monitoring service, Jobsite Surveillance.
In the event of a threat detected and verified by TrueLook's five-diamond, UL-listed monitoring center, the strobes and sirens are activated, creating a visual and auditory display of flashing lights and booming sound that warns potential intruders. This dynamic add-on serves as a deterrent, preventing incidents before they have a chance to occur.
These security features are available as optional add-ons to complement TrueLook's Intelligent Security, which is included as a standard feature with every camera.
"The launch of strobes and sirens marks an exciting progression in our Jobsite Surveillance capabilities, further emphasizing our commitment to total jobsite visibilty and protection. By incorporating these proactive deterrents into our solution, we can address potential threats before they even occur, thus ensuring security and peace of mind for our customers," said Roger Yarrow, TrueLook's COO.
With the introduction of strobes and sirens, TrueLook empowers customers to experience protection for their assets on the jobsite. The combination of 24/7 recording, AI-powered motion detection, professional monitoring and now, audio-visual deterrents help halt criminals in their tracks before they can cause damage.
Request More Information
Fill out the form below to request more information about
TrueLook Launches Strobes and Sirens for Jobsite Security