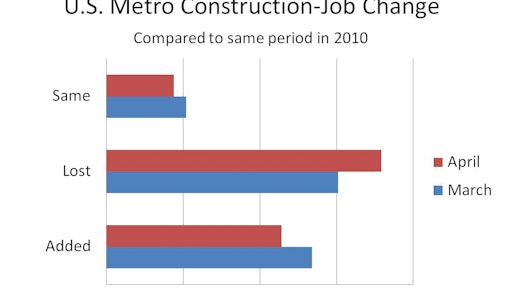 Construction employment declined between April 2010 and April 2011 in 179 out of 337 metropolitan areas (including divisions of larger metros) for which the Bureau of Labor Statistics provides data, increased in 114 and stayed level in 44.
The Associated General Contractors' analysis of the data points out that in March, 151 metros lost construction jobs compared with 12 months earlier and 134 added jobs, underscoring the month's acceleration in construction job losses.
Metro data are not seasonally adjusted and usually combine mining and logging with construction to avoid disclosing information about industries with few employers.
April's Biggest Gainers
Most Jobs: Dallas-Plano-Irving 7,400 construction jobs (+7%)
Fort Worth-Arlington, Texas 2,900 (+5%)
Beaumont-Port Arthur, Texas 2,300 (+13%)
Columbus, Ohio 2,200 (+8%)
Chicago-Joliet-Naperville 2,000 (+2%)
Biggest Percentage: Grand Forks, N.D./Minn. 400 jobs (+18%)
April's Biggest Losers
Most Jobs: New York City 9,300 construction jobs (-8%)
Las Vegas 7,500 (-16%)
Atlanta-Sandy Springs-Marietta 7,300 (-8%)
Denver-Aurora-Broomfield 5,400 jobs (-8%)
Biggest Percentage: Steubenville-Weirton, Ohio/W.Va. 500 jobs (-25%)
Lewiston, Idaho/Wash. 200 (-18%)
Bend, Ore. 600 (-18%)