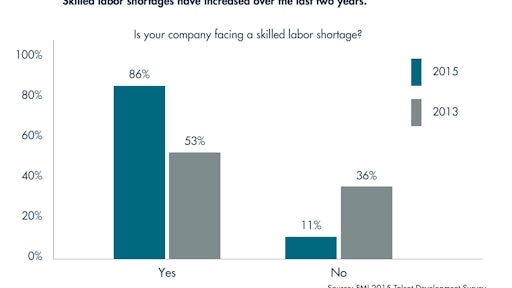 The top findings of FMI's 2015 Talent Development Survey in the Construction Industry reveal intensifying labor shortages, a widening gap between employer offerings and employee expectations, and a lack of standard processes for training and retaining employees.
"People-development is critical to companies' future success and ability to stay competitive. It is especially important in an environment of skilled labor shortage and increasing competition," said Chris Daum, president of FMI Capital Advisors. "Firms need to have strategic and holistic processes in place for recruiting and retaining talent in order to stay viable today and in the future."
The survey, taking insights from executives and employees of companies in the engineering and construction industry, presents findings on various aspects of people development, including talent retaining, labor force structure and dynamics, standard processes and frameworks, measurements, succession plans and corresponding company development strategies. The survey examines the challenges and trends impacting the construction industry as well as identifies the training strategies that are now required to maximize performance and development.
Labor shortage expands to 60% more firms
One of the leading findings is that skilled labor shortages are intensifying and broadly affecting construction firms. Eighty-six percent of respondents reported that their company was experiencing skilled labor shortages, compared with only 53% of firms two years ago. This situation stems from the structural mismatch of labor capabilities and employer demands, as well as the continuing fallout of the last recession. Moreover, the extent of labor shortages is probably more severe than expected and is starting to impact construction firms nationwide.
The survey also reveals an intriguing mismatch where employee engagement is concerned, especially among millennials. Employers surveyed cite offering competitive pay (89%), providing an enjoyable work environment (81%) and offering training opportunities (76%) as the top-three methods they use to retain key talent in the construction industry. Conversely, millennial employees list the top three important factors for keeping them engaged are competitive pay (29%), work-life balance (23%), and personal development (16%).
Other key findings include:
Companies in the construction industry lack processes to develop and promote high-performing employees
Executives and field managers are expected to have the highest attrition rates over the next five years
The majority of firms don't connect training expenditures and performance management metrics
Annual performance reviews are a top priority for increasing employee performance and development
Having a defined and well-communicated vision is critical to retaining key talent, regardless of age 
Business Implications
The Talent Development Survey offers a roadmap for companies looking to strengthen existing people development programs and build out future talent-retaining strategies. Companies can benefit from developing a firm-wide vision that encourages culture and building project management and field supervision capacity. In the meantime, companies can invest in creating and implementing an effective performance management process.