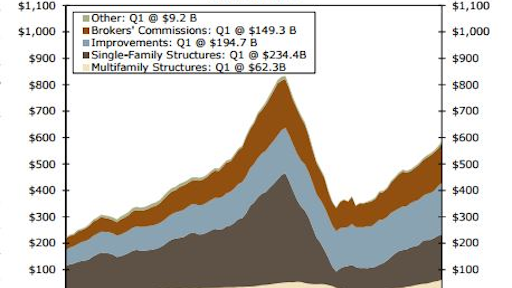 Residential investment continued to be a key driver of domestic growth during the first quarter of 2016, with outlays rising at a 14.8% annual rate. The gain provided a 0.5-percentage-point contribution to real U.S. GDP growth in the first quarter, marking the largest of eight consecutive quarterly contributions to GDP.
Unseasonably mild winter weather helped get builders off to a strong start. Total housing starts through the first three months of the year rose 14.5% from their year-ago level, while single-family starts were up an even larger 22.2%.
Moreover, resales of existing homes during the first quarter were 5.6% higher than they were a year earlier. Existing home sales contribute to GDP growth through brokers' commissions, which accounted for roughly 24% of residential investment in 2015.
Building activity rose at a 12.2% annual rate during the first quarter, with single-family construction rising at a 6.3% pace and multifamily projects surging ahead at a staggering 38.6% rate. The other category also posted impressive gains, rising at a 17.2% pace during the quarter.
Spending on home improvements and brokers' commissions reported solid improvement, rising $7.4 billion and $6.7 billion in the first quarter, respectively.
Wells Fargo expects the U.S. economy to grow just 1.7% overall for the year, but residential investment to grow at more than five times that rate, rising around 10%. The large disparity is possible due to residential investment's relatively small share of U.S. GDP, just 3.6% in the first quarter versus a long-run average of 4.3%. Housing's current smaller share of GDP reflects a correction for overbuilding of single-family homes during the previous housing cycle.
"We believe that this correction is mostly complete and look for residential investment to gradually trend higher towards its historic share of GDP growth over the next three to five years," according to Wells Fargo's analysis of Q1 GDP.
The strong start to 2016 for homebuilding may give way to some contrary readings this spring. With overall starts through the normally slow first quarter up 14.5% from the prior year, starts may not pick up as briskly in the spring months as they normally do.
In light of the unique start to 2016, Wells Fargo recommends a more accurate measure of housing progress: year-to-year comparisons of the year-to-date figures. The analysts say that exercise shows home building on pace to rise roughly 11% this year. Moreover, home improvement spending is also poised to rise, as ongoing gains in home prices are motivating homeowners to invest in their real estate.  
The Joint Center for Housing Studies projects home remodeling spending will rise 8.6% by the end of 2016 and accelerate to 9.7% by the first quarter of 2017.
Homeowners have money to spend. Applications for unemployment benefits are near a 43-year low and employment gains averaged 209,000 jobs per month in the first quarter. Consumer spending, which accounts for more than two-thirds of U.S. economic activity, increased at a 1.9 percent rate in the first quarter. That pace of spending growth slowed from the 2.4% recorded in Q4 of 2015, but much of the money appears to be going to reduce debt and increase savings. Income at the disposal of households after accounting for taxes and inflation increased 2.9 percent in the first quarter after rising 2.3 percent in the prior period.
Economists generally agree that housing construction will continue to recover in 2016, but many warn that demographics will preserve its unhurried pace.
"New-home inventory is very low, which is an invitation to expand construction," says Anirban Basu, economist with the Sage Policy Group. "But I believe the really big years for single-family construction are still a few years out ahead of us."
His primary reason for the restrained housing forecast is that the bulk of new-household formers lies with the millennial generation. Americans in their twenties graduated college in record levels, and have student debt to match. Unfortunately, they're also struggling with an unemployment rate double that of the U.S. population over 29 years old. It's likely to be a few years before a significant number have start families and look to move to the suburbs.