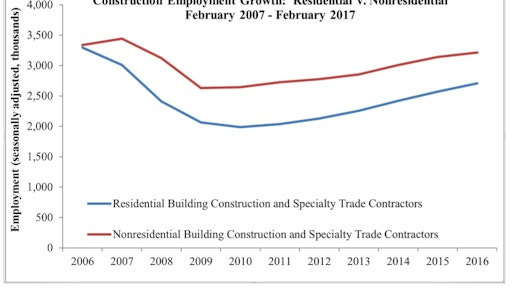 National construction employment surged in February as the industry added 58,000 seasonally adjusted net new jobs, according to Associated Builders and Contractors (ABC) analysis of U.S. Bureau of Labor Statistics data. February's data represents the best month for construction job creation since March 2007. Nonresidential construction added nearly two-thirds of net new construction jobs with 38,500 jobs added for the month. 

In absolute terms, nonresidential construction employment growth was led by specialty trade contractors, which collectively added 21,500 net new jobs. The heavy and civil engineering category posted the largest percentage growth with employment growing 1.6% for the month. 

"Industry surveys indicate that the typical construction firm expects to be busier in 2017 than they were last year, and government data continues to support that optimism," said ABC Chief Economist Anirban Basu. "Over the first two months of 2017, construction has added 98,000 net new jobs, as many as were created over the first nine months of 2016. 

"Leading indicators like the Architecture Billings Index have also been upbeat, suggesting that many contractors will encounter abundant bidding opportunities over the next several months," said Basu. "That has likely induced many construction firms to expand their staffing levels and to shore up their workforce. 

"As always, the numbers must be interpreted carefully," said Basu. "February's weather was unusually mild, which likely translated into less interruption in employment than is typical. Usually, around 311,000 construction workers are sidelined due to weather in February. There was substantially less interruption this year. 

"Still, there is reason to believe that construction job gains generated over the past two months are explained by more than unusually warm weather," said Basu "Data suggest there are now more jobseekers looking to participate in the construction sector's ongoing recovery. That has likely helped some construction firms fill jobs openings more quickly over the last two months." 

After rising recently, the construction industry unemployment rate fell 0.6 percentage points in February and now stands at 8.8%. The national unemployment rate inched down to 4.7% in February from 4.8% in the previous month. The labor force participation rose once again, this time to 63% marking its third highest rate over the past three years. It remains low by longer-term historical standards, however. That said, America's labor market recovery appears to have gained a bit of steam over the past two months, with the employment-to-population ratio achieving its highest level in eight years.