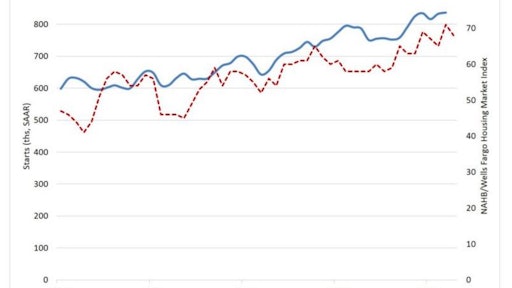 National Association of Home Builders
Total U.S. housing starts in March fell 6.8%, below consensus forecasts, to a 1.215-million-unit seasonally adjusted annual rate, according to the U.S. Commerce Departments monthly estimates. The pullback in March comes after February set a strong annual rate at 1.303 million units, which received a boost from mild weather allowing more projects to get underway than in years past.
The early start to the spring building season will likely continue to result in more volatile seasonally adjusted data in spring months. But total housing starts across the first quarter of the year are more than 9% above the first three months of 2016. This strength is reflected in the NAHB/Wells Fargo Housing Market Index, which hit a cycle-high in March before falling back slightly in April.
Single-family construction slipped 6.2% to an 821,000-unit pace in March, following its strongest post-recession pace of 875,000 units in February. Multifamily construction declined 7.9% in March to a 394,000-unit pace. Year to date, apartment construction is up 14.1%, but the National Association of Home Builders continues to forecast multifamily development leveling off over the course of 2017.
Construction slowed most in the Midwest and West in March, while home building accelerated in the Northeast. Construction in the South was down slightly from February, where weather plays less of a role, though single-family building held up in March. Compared to the first three months of last year, construction is up 13.5% in the South, on strength in both single-family and multifamily units. In the Northeast, single-family construction is up 11.6% year to date, likely due to the mild winter.
Permits issued in March for new construction were up 3.6% to a 1.260-million-unit rate. The monthly gain was in multifamily units, as single-family permits slipped 1% on the month. The March single-family permits rate was, nevertheless, the third-largest annual pace since the recession, and single-family permits are up 13.2% year to date. Total permits were up a healthy 10.4% in the first three months of 2017 from a year earlier, which bodes well for the construction sector in coming months. Permits were up most significantly in the West, although the strength was entirely in multifamily units.
Underlying fundamentals, including an incredibly lean supply of existing homes for sale in many markets and continued improvement in the labor market, support continued strength in home builders' confidence in the new home market in 2017. Reports from recent consumer sentiment surveys also suggest more people feel that now is a good time to buy a home. Moreover, higher mortgage rates since the election do not appear to be weighing much on mortgage applications, which hit a cycle high in April.
Wells Fargo Economics Group expects construction "to play a more significant role in economic growth in 2017. We raised our housing starts forecast to 1.26 million units in 2017 and 1.35 million units in 2018. The early start to the construction season should also provide a much-needed lift to Q1 GDP growth."