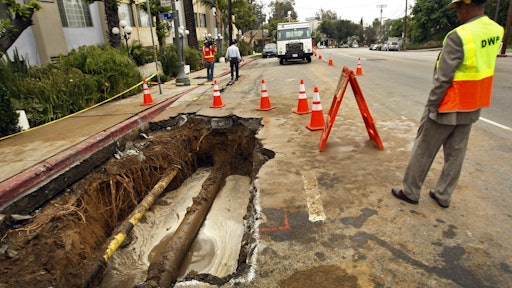 Los Angeles Times
A new report from Moody's Investors Service says that with an estimated $1 trillion needed for investment in US water and wastewater infrastructure, current market conditions are conducive to more public-private partnerships (PPP or P3s). However, several factors including limited experience, environmental regulation and lack of funding commitment are holding back investment in the space.
While the pipeline for new water infrastructure PPPs is slowly building, especially in California, only a few projects across the US have reached financial close in recent years.
"There are an increasing number of complex, innovative or large projects that could lend themselves well to a PPP process," says Kathrin Heitmann, an associate vice president at Moody's. "But a PPP project requires an identified funding source and needs to be creditworthy to attract interest from private developers and investors."
While water and wastewater systems are mostly the responsibility of local governments, they are regulated at the state and federal levels, and need to comply with stringent environmental regulations that can change throughout the contract term. According to the report, authorities procuring a PPP for the first time will likely require more time to negotiate the appropriate risk allocation with the private partner.
Another hindrance to water infrastructure PPPs is a lack of funding commitment, since a project's cost ultimately needs to be funded through the public procuring authority's excess cash or debt, or through grants or increases in user fees charged to customers.
"Public utilities with strong financial metrics located in robust economic areas are well positioned to finance investments in water infrastructure and increase customer rates, if necessary," says Heitmann. "Highly-levered utilities with limited liquidity reserves located in weak economic areas will be least likely to afford water infrastructure investments."
Several emerging trends suggest funding for water infrastructure could improve in the near future. Regional cooperation among different water and wastewater systems or between different levels of government can increase economies of scale and support regional solutions for capital investments.
Additionally, new financing options including green bonds and the loan program created under the Water Infrastructure Finance and Innovation (WIFIA) Act are expected to complement traditional funding sources.